City of Vancouver update
March 31 2016 City of Vancouver and Park Board statement on workplace fatality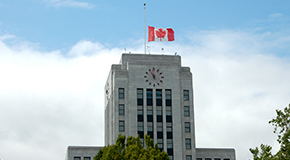 The City of Vancouver and the Park Board are deeply saddened to report that a workplace fatality of a Park Board arborist occurred this morning.
Worksafe BC is at the location the incident occurred and Vancouver Police Department's Victim Services Unit is also on site.
More information will be provided once Vancouver Police Department has notified the next of kin.
Our warmest thoughts of sympathy go out to the family, friends, and colleagues of the staff member.