City of Vancouver appointment of Armin Amrolia as Deputy City Manager
With her depth of experience and previous work with a range of partners to deliver positive outcomes for our community, I am confident Armin will bring her insight and leadership to her new role.
Paul Mochrie, City Manager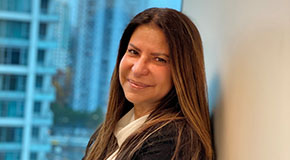 October 27 2021 –
The City of Vancouver has appointed Armin Amrolia to the role of Deputy City Manager.

Amrolia joins Karen Levitt in one of two Deputy City Manager roles, the role held by Mochrie prior to his appointment as City Manager.
Amrolia's experience and expertise
Amrolia comes to the City from BC Housing where she served for 32 years, most recently as Associate Vice President, Development Strategies. At BC Housing, she led the delivery of 23,000 homes across the province for seniors, families, Indigenous communities, women fleeing violence, youth, and people who are experiencing homelessness or at risk of homelessness. Amrolia delivered projects working in partnership with more than 200 non-profit housing providers, housing cooperatives, Indigenous groups, and development partners. She has established strong stakeholder and intergovernmental relations liaising with municipalities, health authorities, and government agencies.
Amrolia will report to the City Manager as part of the City Leadership Team. As her full DCM portfolio is finalized, she will initially support key files as part of the Real Estate and Facilities Management (REFM) function.
Amrolia holds a degree in Political Science from Simon Fraser University and has been the recipient of numerous awards, including the YWCA's 2021 Women of Distinction in the non-profit category and the 2021 Urban Land Institute BC Women's Leadership Initiative Outstanding Leader.
Quotes
Paul Mochrie, City Manager
"I look forward to Armin joining our team in December and working together to further our strategic priorities," said Paul Mochrie, City Manager. "With her depth of experience and previous work with a range of partners to deliver positive outcomes for our community, I am confident Armin will bring her insight and leadership to her new role."
Armin Amrolia, incoming Deputy City Manager
"This is an exciting opportunity and I look forward to the work ahead," said Armin Amrolia, incoming Deputy City Manager. "Drawing on my years spent at BC Housing to deliver affordable homes to more that 65 communities together with key housing stakeholders, I am thrilled to bring my knowledge, relationships, and expertise to the City."