City presents homelessness response update to Council
October 5 2017 Council approves award to Horizon North for the development of up to 600 units of temporary modular housing
"Homelessness continues to be our top priority and we won't back down until we have our most vulnerable in safe and secure housing," says Mayor Gregor Robertson.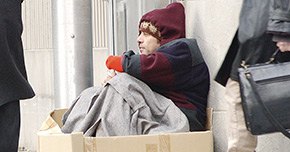 Following last week's release of the 2017 Aboriginal Homelessness Count Report

(6.3 MB) and the 2017 Homeless Count in Metro Vancouver Final Report

(2.4 MB), City staff presented an update to Council on Vancouver's homelessness services.
Staff shared a breakdown of Vancouver's homeless count and the response the City is taking to help those experiencing homelessness by delivering 600 new temporary modular homes in partnership with the BC government, opening 300 temporary winter shelter beds and activating warming centres in extreme weather conditions.
"Homelessness continues to be our top priority and we won't back down until we have our most vulnerable in safe and secure housing," says Mayor Gregor Robertson. "The City is on track to make real progress this year with 600 temporary modular homes to get our most vulnerable off the street and into secure housing, and we have 1,000 new social housing units opening across Vancouver from now until the end of next year. I look forward to working in partnership with the provincial and federal governments to deliver housing that meets local residents' needs and incomes as we continue to grapple with an affordability crisis."
Total of 2,138 homeless residents
In the last year, Vancouver saw an increase of 291 homeless residents in the City for a total of 2,138 people. Of those, 1,601 were considered sheltered through emergency shelters, safe houses, transition homes and detox centres, as well as people in hospitals and other institutions who had no fixed address.
537 homeless residents were unsheltered. The number of unsheltered homeless people has remained relatively unchanged since 2014, with the number of sheltered homeless rising by close to 300.
Statistics
Other notable statistics from the Vancouver results of the 2017 Aboriginal Homelessness Count and the 2017 Homeless Count in Metro Vancouver include:
People of Indigenous identity continue to be vastly overrepresented, making up 39 percent of Vancouver's homeless population but only 2 per cent of Vancouver's overall population
25-54 year olds continue to comprise the majority of the homeless population at 68 percent
Vancouver saw an increase in seniors aged 55 and over representing 21 percent of the homeless population in 2017, compared to 17 percent in 2014 when the last regional count was conducted
Youth under the age of 24 represented 15 per cent of the homeless population, a decrease from 21 percent since the last regional count in 2014
Men represent 76 percent of the homeless population in Vancouver, with women making up 22 percent, and 2 percent who reported another gender identity
68 percent of Vancouver's total homeless population are people who were already living in Vancouver when they became homeless
The Homeless Count in Metro Vancouver has taken place every three years since 2002. In the intervening years, the City has conducted its own homeless count since 2010.
See the full presentation from yesterday's Council meeting

(1.55 MB)
Temporary housing
Finding the right housing with the right supports for those experiencing homelessness in Vancouver continues to be a top priority for the City.
While permanent, affordable housing is being developed, the City is taking the following actions to address the immediate needs of sheltered and unsheltered homeless residents.
Temporary modular housing
Using a Housing First model, the City in partnership with BC Housing will offer temporary modular housing with wrap around support services to homeless citizens without prior interventions or criteria.

600 temporary modular homes will be created on vacant and underused sites across the City which will provide much needed housing for up to 10 years while a more permanent option is being developed.

Yesterday, Council approved a recommendation from City staff that authorizes the Vancouver Affordable Housing Agency (VAHA) to negotiate a contract with Horizon North, for the design, supply, delivery and construction of up to 600 units of Temporary Modular Housing on sites in Vancouver.
A temporary modular display unit is open daily for the public to tour and learn more about the project. The unit is open daily and is located at Trout Lake until October 15.
Learn more about temporary modular housing
Temporary winter shelters
Since 2009, the City has partnered with BC Housing to open temporary winter shelter beds, in addition to the more than 900 year-round shelter beds that are available.
This year, 300 low-barrier shelter beds will provide an opportunity for those living on the street to come inside during the coldest, wettest months of the year.
Winter shelters will open on November 1, a month earlier than in previous years, to provide relief from November rains.

All shelters are operated by an experienced non-profit operator, and help to address the needs of people who are homeless while transitional and permanent social housing is made available.
Warming centres
Warming Centres will be opened again this year in response to extreme cold weather (when the temperature reaches -5°C or below) that may present a health and safety risk to those living on the street.
These centres will provide a place for people to come inside to stay dry and warm while operating on a low-barrier model to be welcoming to all.
Warming Centres will generally be opened overnight between 9 p.m. and 8 a.m. and each site will have space for at least 20 individuals
The City and the Park Board work together to open Warming Centres in extreme weather conditions.
The City continues to work with Vancouver's homeless population to find more permanent housing options.
As part of the Housing Vancouver Strategy, the City has increased its targets by 50 percent to create 12,000 new units of social and supportive housing over the next 10 years, among which 5,200 units are targeted to those earning less than $15,000/year.