City releases its findings on DCL Waiver issue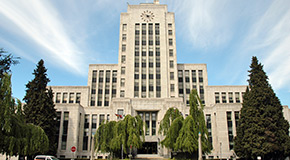 December 9 2016 –
We have completed our review of the development cost levy (DCL) waiver issue for the Charleson Project located at 1396/1398 Richards Street and are releasing those findings, including recommendations to ensure this doesnt happen again.
DCL waivers
The DCL waiver is authorized by the Vancouver Charter and is detailed in the our DCL bylaws. The DCL waiver provides a financial incentive to developers that produce for-profit affordable rental housing.
Rental housing is critical to Vancouver's social diversity and economic health. Vacancy rates are critically low. Through Short Term Incentives for Rental Housing (STIR) and Rental 100 initiatives, we have demonstrated significant recent success in stimulating the supply of new rental housing. Since 2009, we have approved over 5,000 units of market rental housing, with over 3,000 units completed or under construction.
Investigation
We were made aware that we had wrongfully approved a DCL waiver for a project that didnt qualify. Our chief risk officer conducted an interim investigation to review this particular transaction to determine the cause of the error. This process included reviewing the file, the correspondence, and interviewing approximately 10 people that have been involved in the file.
The key objectives of this investigation were to:
Assess the process that resulted in the DCL waiver being granted to Charleson Project
Determine if there is a risk that another unqualified project would be granted the DCL waiver
Findings
This investigation found that City staff approved the DCL waiver for the Charleson Project in error.
Our Planning Department conducted an initial assessment of the other DCL waivers granted in the program. They found that there was no evidence of fraudulent activity and this error is an isolated incident. Several factors contributed to the error, including:
Transition to new rules
Lack of appropriate oversight
Need to improve documentation
Recommendations and outcomes
Our chief risk officer has made recommendations on how DCL waivers are processed, approved, and what staff are accountable for the entire process.
Read the report and recommendations

(300 KB)
We are also conducting an internal audit of past DCL waiver projects. The audit will be completed by January 2017. The objective of this audit is to ensure that all 29 DCL waivers issued since 2009 are accurate, in compliance with applicable policies, and appropriately authorized.
An external audit peer review will be conducted by KPMG on our audit plan and report.
We received re-payment from Onni on December 2, 2016, for the amount of $1,558,753.33.