Print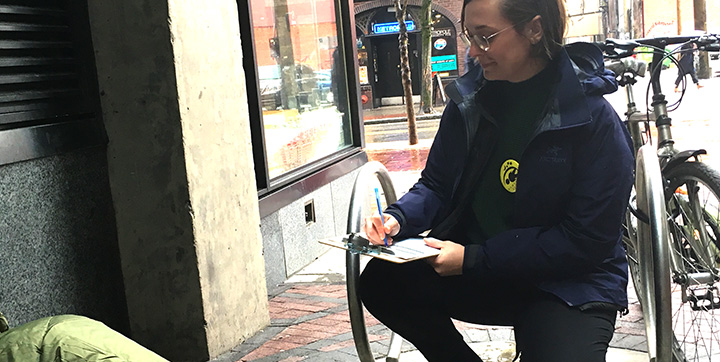 City's annual Homeless Count takes place across Vancouver
We're grateful to the hundreds of volunteers working on routes across Vancouver today and last night to collect information which will inform how we can work to reduce the numbers of people experiencing homelessness in our city.
Mayor Kennedy Stewart
March 13 2019 –
The 2019 Homeless Count is being conducted by City staff, volunteers and social service agencies today to collect critical information on the numbers and characteristics of people experiencing homelessness in Vancouver. Staff will present the Count's findings to Council in May, and the results will impact policies and projects developed by the City to address homelessness.
"People experiencing homelessness continue to be the hardest hit by the housing crisis" said Mayor Kennedy Stewart.
2018 findings
The 2018 Homeless Count found more than 2,100 people in Vancouver are without a home. Last year, it was also found that:
Homelessness was at its highest level in Vancouver since the Count began, up 2% from 2017 and 16% from 2016
Indigenous people continued to be vastly overrepresented, making up 40% of Vancouver's homeless population in 2018 but only 2.2% of Vancouver's overall population
52% of those counted reported being homeless for less than a year, showing the fluidity of homelessness year over year in Vancouver
Homeless counts have been conducted in the Metro Vancouver region every three years since 2002. Because the situation in Vancouver is so urgent, in 2010, the City of Vancouver began its own annual counts in shelters and on the streets. This year, the City is conducting the Count in collaboration with Indigenous partners.
Addressing street homelessness
The City is committed to addressing street homelessness and every day, the City and multiple service provider organizations visit people to encourage them to come inside.
The City continues to work with the provincial and federal governments on the delivery of much-needed permanent social and supportive housing across Vancouver. A recent partnership between the City and Province saw more than 600 temporary modular supportive homes open across the city in just a year and a half, providing immediate relief for those experiencing homelessness living in shelters and outside.
Read about the Homeless Count and about temporary modular housing.