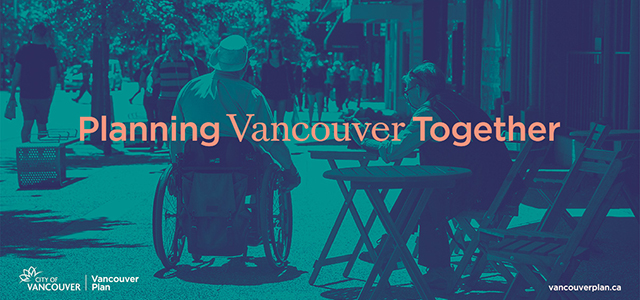 City seeking diverse voices to respond to Vancouver Plan survey
Help us reach all communities
February 11 2020 –
The City is actively seeking to hear from diverse voices and ensure all communities across Vancouver are represented through an initial city-wide planning survey. The survey is designed to capture a picture of the current challenges and hopes of those who live, work and play in Vancouver; as well as those who want to do so.
There has been good initial interest in the survey, and we are hearing from renters, home owners, workers, and many others.
We've heard the majority of responses from English speaking community members over 40, without young children.
To truly be successful in planning Vancouver for the next 30 years, we need to hear from a broader diversity of voices that reflects everyone in Vancouver.
This includes families with young children, young adults; millennials; people from diverse cultural backgrounds; those who have traditionally faced barriers to participating; and those who have lacked opportunities to participate in the past.
To ensure that we hear from these different sectors of our society, City staff have been working to gather input in a number of ways:
The online survey is available in five languages: English, Traditional Chinese, Simplified Chinese, Punjabi, and Tagalog
Street teams are spending time in communities around the city such as Chinatown, South Vancouver, Downtown Eastside, Strathcona, and Kitsilano where responses are lower
Stakeholder meetings are being held to hear feedback first hand from groups such as the Chinatown Legacy Stewardship Group, Musqueam, Squamish, and Tsleil-Waututh First Nations, Immigrant Service Society of BC, Parent Advisory Committees, Vancouver School Board, and the Sustainabiliteens
We're also advertising directly to non-English speaking audiences through a number of channels
Take the survey
The online survey closes at the end of February, and we urge anyone who wants their voice to be represented to take five minutes and complete it:
An initial report to City Council is planned for early March with early results and next steps, with a full public report back planned for July when the first phase of city-wide engagement ends.
Find more information and to take the first step in Planning Vancouver Together