City seeks approval for $600,000 in funding to assist with overdose crisis
July 21 2017 Estimated 216 overdose deaths and 3,600 overdose calls this year alone puts the city on track for most deaths related to opioid use ever recorded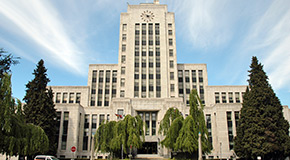 The City of Vancouver is taking further steps to address the continued urgency of the overdose crisis. Next week, staff will ask City Council to approve the remaining $601,800 from the $3.5M Contingency Budget for the Opioid Crisis approved by Mayor and Council in the 2017 operating budget. This round of investments will support organizations working on the front lines of the crisis. The additional funding will address five priority needs identified through community consultation and fire and police data monitoring:
Innovative anti-stigma programs - $116,600
Building capacity with urban Aboriginal communities - $265,070
Addressing social isolation for drug users, especially men - $68,200
Expanding interventions beyond the Downtown Eastside (DTES) - $23,000
Strategies to address toxic drug supplies - $128,930
"The City's immediate, targeted, front-line investments are a critical support for the many individuals and organizations working tirelessly to save lives in the drug overdose crisis," says Mayor Gregor Robertson. "Vancouver - through the City, first responders, community service workers, and people with lived experience - continues to do more than its share to tackle the drug overdose crisis by fighting stigma and connecting people to the health and addictions services they need, when they need them, and before fentanyl tragically takes another life."
The City's $601,800 in funding will be matched by more than $1,036,000 in contributions from partners in the health and the non-profit sectors. If upon consideration of this report, Council approves staff's recommendations, all funds allocated to the 2017 Contingency Budget for the Opioid Crisis will have been invested into high-impact community-based projects.
One organization recommended for funding is PHS Community Services Society. This community-based group will receive $132,500 to support their Culture Saves Lives Aboriginal healing and wellness program, and low-barrier opioid overdose prevention projects in the Downtown Eastside.
"All PHS' programs and services are designed to help build community, while also helping to reduce the stigma that can accompany poverty and the use of illicit drugs," said Susan Alexman, Director of Programs for PHS Community Services Society. "With this new funding, PHS will be able to expand our opioid overdose prevention services and response, and create more opportunities for social inclusion and cultural connections in the Downtown Eastside. We're very grateful to have the City's support for this work."
Tracey Morrison, President of the Western Aboriginal Harm Reduction Society (WAHRS), sadly passed away on the weekend and will receive a special commemoration at Council. There will also be a public gathering on Friday, July 21 at 1:00pm in Oppenheimer Park to honour Tracey. Her cause of death is unknown at this time. Tracey was instrumental in the Mayor's Task Force on Mental Health and Addictions and a leader in peer research for integrating Aboriginal healing and wellness into health services and reforming drug policy, including harm reduction as a community "first responder". The Council report recommends $34,580 to WAHRS to expand outreach and peer-based membership.
Staff reviewed and evaluated 25 submissions, and provided direction and feedback for the development of full proposals, which were received by June 30, 2017. The 16 recommended projects fit with priorities identified by the community, and were ranked as likely to have a high impact on improving the health of the community in the midst of the overdose crisis.
View a full list of organizations that will receive funding through approval of the recommendation by Council

(120 KB)
The 2017 aggregated data from the coroner and Vancouver Police Department (VPD) reveals that there have been over 200 deaths in Vancouver alone as of July 2. With about six more months to finish the calendar year, this death rate could mean over 400 deaths in 2017 in Vancouver alone. The increase in overdose deaths has been attributed to the widespread contamination of the illicit drug supply. The BC Coroner's Service reports that fentanyl and its analogues have been detected in approximately 60% of all overdose deaths.
In 2016 VFRS responded to 4,709 calls for overdose incidents-more than the combined number of overdose incidents in 2014 and 2015. As of July 2, 2017, VFRS has responded to over 3,600 calls. If this pace continues, 7,000 calls will be logged by the end of the year.
While these investments will have a direct, actionable, and immediate impact on the crisis, the City is eager to work with the recently appointed cabinet ministers within the Ministry of Health, and the newly created Ministry of Mental Health and Addictions, to develop a quick start action plan to address the crisis.
Overdose data for the week of July 10
The Vancouver Police Department (VPD) are reporting a suspected five overdose deaths for the week of July 10, down slightly from the seven reported the previous week. Vancouver Fire and Rescue Services (VFRS) are reporting 100 overdose calls, a 21% decrease from 126 reported for the same period.