City seeks Community Panel to guide decision making on new arterial through False Creek Flats
"As the City has moved through the alignment exploration process for an arterial and overpass in False Creek Flats, it's become apparent that all of the options explored to date present challenges for various project partners" - Jerry Dobrovolny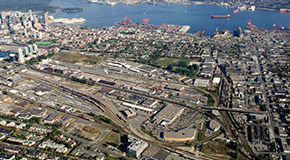 November 15 2017 –
Beginning in 2018, the City will initiate a Community Panel to explore options for a future False Creek Flats Arterial Overpass.
A Community Panel will provide for a deeper conversation and will result in a recommendation by the community for an arterial option that best meets the needs of all partners involved.
"As the City has moved through the alignment exploration process for an arterial and overpass in False Creek Flats, it's become apparent that all of the options explored to date present challenges for various project partners," says Jerry Dobrovolny, the General Manager of Engineering for the City of Vancouver. "After much discussion about how to move forward, we decided that this difficult decision requires the highest level of community engagement possible – a Community Panel."
What is a Community Panel?
A community panel is a representative group of residents and businesses who are randomly-selected to advise and recommend a solution on a complex or difficult community issue.
All residents and businesses will have a chance to apply to sit on the community panel, however, specific selection criteria is still to be determined.
Key stakeholders will also be invited to advise the consultant in the design of the learning program and participate in the learning sessions of the panel.
Separating the rail corridor from the arterial
The necessity for a new arterial and overpass is driven by the long-term need to build an over or under-pass to separate the rail corridor from the arterial.
The separation will help to support Vancouver's role in Asia-Pacific Gateway trade by reducing the impact of rail movement on arterial traffic. The separation will also enhance safety and help alleviate congestion.
A recent example of the rail corridor strategy implementation is the Powell Street Overpass, completed in 2014.
Since CN increased its rail traffic in January 2017, the City has been working closely with them on safety initiatives and we have been monitoring traffic impacts related to the increase in rail traffic on the Prior/Venables. Currently, the Prior/Venables crossing is experiencing an average of 12.5 blockages a day at around 6.5 minutes each.

Past 30 Days as of November 10, 2017 – Cumulative Total
The False Creek Flats Rail Corridor Strategy
Since October 2015, staff have been working closely with project partners to identify a route to build an over or underpass to separate the arterial from the rail line, and also downgrade Prior/Venables Street to a local serving street.
The consultation and engagement of the arterial overpass was initially included as part of the False Creek Flats Area Plan, but was separated from the planning process when the area plan went to Council on May 17, 2017 to allow for more community input into the process. Currently, the Prior/Venables crossing is experiencing an average of 12.5 blockages a day at around 6.5 minutes each.
The False Creek Flats Rail Corridor Strategy is outlined as part of Transportation 2040, with an aim to:
Support the efficient movement of goods and people
Enhance safety and community livability
Support the economy
Learn more about the False Creek Flats Area Plan