City statement on overdose crisis and pop-up overdose management site
October 13 2016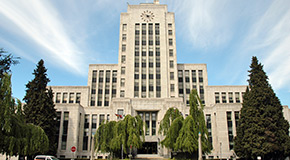 The City of Vancouver supports efforts to save the lives of people affected by the fentanyl crisis. Vancouver's harm reduction efforts to date are evidence based and effective.
Learn more in the September 21, 2016, presentation to Council about the fentanyl crisis by Vancouver Coastal Health, Vancouver Fire and Rescue Services, and Vancouver Police

(600 KB)
The individuals operating the unsanctioned overdose management site in the alley behind 62 East Hastings in the Downtown Eastside are acting on their own.
This is not a sanctioned safe injection site. The existing safe injection sites (Insite and Dr. Peter Centre) are staffed and run by trained health professionals and people are encouraged to access these services.
The City supports Vancouver Coastal Health's applications for additional supervised injection sites in Vancouver as they are urgently needed, and Mayor Gregor Robertson has written to Health Canada to support and expedite the process. In addition, the City is working with partner agencies – including Vancouver Coastal Health (VCH), Vancouver Police, and Vancouver Fire and Rescue – to mobilize coordinated efforts in response to the fentanyl crisis.
The City and VCH are working together on a comprehensive Naloxone strategy. We will continue to work with VCH and Vancouver Police to assess the risk of the unsanctioned overdose management site and next steps to respond to this situation.