City submits letter of comment to Environment and Climate Change Canada on Kinder Morgan Proposal
April 18 2016 One week's GHGs from expanded Trans Mountain pipeline would be equal to all GHGs produced in Vancouver for an entire year, including vehicles
"Kinder Morgan's pipeline proposal is a bad deal for Vancouver's environment and economy. The sevenfold increase in tanker traffic in our local waters is simply not worth the risks in the event of an oil spill," said Mayor Gregor Robertson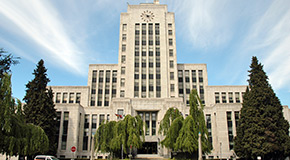 In our submission to Environment and Climate Change Canada (ECCC) we state that 'downstream' greenhouse gas emissions (GHGs) from processing, refining, transporting, and consuming oil from an expanded Kinder Morgan pipeline will be ten times higher (71.1 million tonnes) than those from upstream extraction (7.7 million), and should be included in the project's climate assessment.
"Kinder Morgan's pipeline proposal is a bad deal for Vancouver's environment and economy. The sevenfold increase in tanker traffic in our local waters is simply not worth the risks in the event of an oil spill," said Mayor Gregor Robertson. "Environment and Climate Change Canada must consider both upstream and downstream climate impacts of Trans Mountain's expansion to fully assess the significant safety, environmental and public health hazards the project carries. Vancouver will continue to advocate against Kinder Morgan's expansion proposal, and champion clean, 100% renewable energy infrastructure."
Read our letter to Environment and Climate Change Canada
Excluding downstream GHGs will have major ramifications for climate change
Currently, ECCC is only planning to consider 'upstream' GHGs (from drilling and exploration in the Alberta Oil Sands) in their climate assessment of oil and gas pipelines. We concluded that excluding downstream GHGs in assessing the Trans Mountain pipeline expansion will have major ramifications for climate change on top of the significant risk of an oil spill and doesn't reveal the pipeline's true and significant environmental costs.
The Burrard Inlet and Fraser River estuary are some of the world's most important ecosystems and are among the defining factors identified in a study that valued Vancouver's brand at $31 billion due to our reputation as a "green, clean and sustainable" city; an oil spill in local waters would disproportionally and negatively affect our brand value versus comparable cities and could cost us $3 billion — requiring significant investment to rebuild.
We are encouraged by the federal government's commitment to reduce GHG emissions and applauds the addition of climate methodology to assess oil and gas pipelines against this commitment. We have pledged to be the greenest in the world by 2020, and 100% renewable by 2050 or sooner, and supports infrastructure investments that work toward these goals.
The NEB will make the final decision on the expansion in May
We presented our final oral summary arguments as an Intervenor to the National Energy Board (NEB) on February 5, 2016, and concluded that Kinder Morgan's pipeline expansion's adverse effects did not outweigh the possible economic interests and was therefore not in the public's interest. After our submission, the NEB will submit recommendations to the federal government's Governor in Council on May 20, 2016, who will make the final decision on the Trans Mountain pipeline expansion.
Read a summary of our evidence to the NEB on the environmental and safety risks of the proposed Kinder Morgan pipeline expansion.