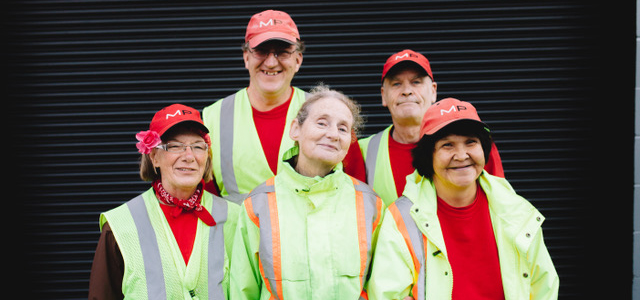 City supports low-barrier job opportunities via $2-million in Street Cleaning Grants
February 9 2021 –
Vancouver City Council has approved $2.1 million in funding for the City's Street Cleaning Grant program. For over 20 years, this program has played a major role in keeping Vancouver clean by supplementing work done by City crews, and providing meaningful, low-barrier job opportunities for people who need them the most.
Micro cleaning is a core component of the Street Cleaning Grant program. Micro cleaning involves daily collection of improperly discarded materials, including needles and litter using brooms, shovels, and wheeled garbage carts. This work differs from street cleaning done by City crews, which is focused on emptying receptacles and litter collection using sweepers, flushers, or other vehicles.
Grant recipients
In total, the 2021 Street Cleaning Grant program will provide $2.1 million in grants to the following organizations:
Save Our Living Environment – United We Can ($469,100)
Coast Mental Health Foundation – Employment Services Program ($663,000)
Mission Possible Compassionate Ministries Society - MP Maintenance ($796,000)
Family Services of Greater Vancouver – Street Youth Job Action ($73,100)
The Kettle Friendship Society – SEED Employment Program ($48,800)
Makeway Charitable Society -The Binners' Project ($55,000)
The Street Cleaning Grant Program is an excellent example of social sustainability in action and is part of the City's broader commitment to keep Vancouver clean, safe and litter free. Participants benefit from a greater sense of pride and self-esteem developed through employment that makes a positive contribution to their own community.
2020 grant impact
A recap of the 2020 street cleaning grant program impact:
Micro cleaning an area covering 750 blocks within 22 BIA areas
Micro cleaning at 13 temporary and permanent plazas
50,000 micro cleaning work hours to individuals with barriers to traditional employment
21,350 bags of litter collected
80,600 needles collected from streets and lanes
Additional City services
As part of the City's 2021 budget, Council approved an additional $1.28 million (10% increase from 2020) to support enhanced cleanliness services in the Downtown Eastside, Chinatown, Gastown, Hastings Crossing, Granville, Crosstown and Strathcona. In addition to an enhanced Grant program, City crews will provide the following additional services:
Increased flushing of lanes (March to October)
Additional crews for collection of abandoned items
Enhanced sidewalk and pedestrian area cleaning
Extra sweeping on bike lanes and arterials
Expanded emergency cleaning service
Additional street litter can service
We encourage all residents to do their part to reduce waste, dispose of their garbage properly, and consider participating in the City's community-based litter cleanup programs: Adopt a Block and Neighbourhood Cleanup Party.
Find more information about the Street Cleaning Grant Program
View the Council report (133 KB)