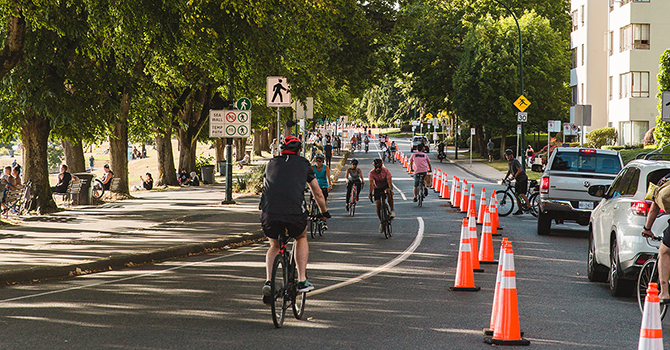 City survey seeks feedback on Beach Avenue road use changes
Traffic calming measures coming to Slow Streets
September 25 2020 –
We're seeking additional public feedback regarding the temporary road reallocation changes on Beach Ave implemented in response to COVID-19 to help residents physically distance and reduce the spread of the virus.
On April 9, 2020, we temporarily closed the eastbound lanes of Beach Ave to vehicles between Hornby St and Park Lane for residents to be able to walk, bike, and roll while keeping two metres apart as part of our Room to Move initiative. Beach Ave is currently the busiest cycling route in Vancouver.
In Phase Three of BC's Restart Plan, we're continuing initiatives that provide additional space for people to exercise and access services. Given the high volume of users and the recent increases in active COVID-19 cases in Vancouver, staff are exploring modifications to Beach Ave to reduce the maintenance effort and improve access for walking, cycling, and transit.
Tell us what you think
The public is now being asked to share its input on the current configuration and potential changes through a Shape Your City survey between now and October 12, 2020. Public responses will help staff refine a modified design and inform future decisions.
Take the survey and find more information
Slow Streets update
Since May, we've designated 40km of Slow Streets with simple traffic barriers and signs to make it easier for residents to exercise and access businesses in their local neighbourhood.
This week, we are implementing additional traffic calming measures on two Slow Streets:
Ontario St south of E 30th Ave
Wall St near Oxford and Cambridge parks
Additional signage and concrete barriers will be installed to lower motor vehicle volumes and there will be some local changes to parking and traffic circulation.
Once the measures are installed, we will be asking the public to share their feedback about how these changes are working.
Find out more at vancouver.ca/slow-streets.