Print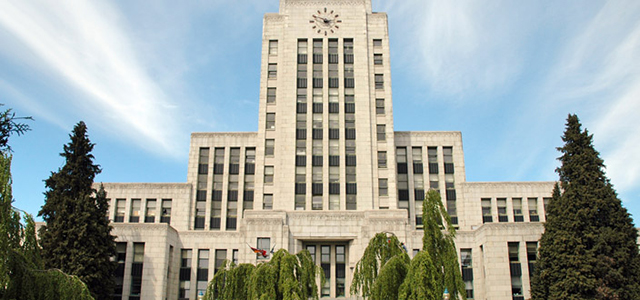 City takes significant steps in 2018 to address top priorities
"This year, we tackled the housing affordability crisis with actions such as approving 600 new temporary modular homes, opening more than 500 permanent social and supportive housing, and implementing the first full year of the empty homes tax."
December 27 2018 –
In response to the opportunities and pressures of an evolving city, the City of Vancouver made progress on a number of key issues in 2018 such as addressing housing supply, improving services, and continuing to build vibrant communities.
"This year, we tackled the housing affordability crisis with actions such as approving 600 new temporary modular homes, opening more than 500 permanent social and supportive housing, and implementing the first full year of the empty homes tax," said Sadhu Johnston, City Manager. "As we head into 2019, we now have a clear mandate from Council to get to work on building more affordable housing, protecting renters, reducing homelessness, tackling the opioid crisis, and supporting small businesses."
Housing
Significant investments were made in citywide community planning to respond to the needs of a growing city. This included bringing more affordable housing to market sooner, including over 1,000 purpose-built rentals completed and another thousand projects approved, providing greater security and stability for renters, and delivering additional housing and services for people experiencing homelessness.
Temporary modular housing
More than 600 new temporary new modular homes were approved this year for people experiencing homelessness in Vancouver and over half of them are already built and occupied. The remaining units will be completed in early 2019.
Social and supportive housing
More than 500 permanent social and supportive homes opened across the City in 2018. As outlined in the Housing Vancouver strategy, the City has a target of 12,000 new units of permanent social and supportive housing over the next 10 years.
Affordable housing investment
In May, the Vancouver Affordable Housing Agency and the City announced that the Community Land Trust will develop seven sites of City-owned land, resulting in approximately 1,000 new affordable rental units. This represents the largest one-time municipal land investment into the community housing sector in all of Canada.
Vancouver Affordable Housing Endowment Fund
The City also announced the creation of the Vancouver Affordable Housing Endowment Fund (VAHEF) which will be dedicated to meeting the housing and affordability needs of Vancouver residents and create inclusive communities across the city. The $2 billion dollar housing portfolio received its initial mandate from City Council in September.
Empty Homes Tax
This was also the first year for the Empty Homes Tax which was implemented to help relieve pressure on Vancouver's rental housing market, by returning empty or under-utilized properties to the long-term rental market. Revenue generated by the tax will be used for affordable housing initiatives in Vancouver. In total, the City estimates it will receive $38 million revenue for the first year.
Short-term rentals
The City launched its short-term rental regulations this spring in an effort to help provide more housing for long-term renters. Three months after the short-term rental regulations took full effect on September 1, efforts by the City to remove non-principal residences from the short-term rental market are seeing steady progress with over almost 1,000 illegal units no longer on the market and over 3,100 business licenses issued.
Improving the permit approval process
Significant steps have been taken to speed up and streamline planning and development processes, particularly for affordable housing and single family homes. In 2018, the City saw a 50% reduction in development permit timelines as part of an affordable housing pilot, and launched the Applicant Supported and Assisted Process Pilot (ASAP) which has led to permits being processed for single family and laneway homes in as little as 12 weeks.
Community planning
False Creek Final Plan
In February, City council approved the Northeast False Creek Final Plan, making a historic decision on the shape that the neighbourhood will take in the years to come.
The plan will guide the creation of a vibrant waterfront destination, and provide Vancouver's largest increase in new and renewed parks and open space in a generation; one of the most significant deliveries of affordable homes in British Columbia's history; and the opportunity to reconnect Chinatown and Hogan's Alley to the rest of the downtown core through a new and improved street network.
Cambie Corridor Plan
In May, City council also approved the final phase of the Cambie Corridor Plan, which will transform single-family neighbourhoods by allowing new townhomes, secured rental, below market rental and social housing, and add significant new job space, better connections for all modes of travel and improved public amenities.
This is the City's first comprehensive community plan to introduce below-market rental housing as part of its policies, in addition to social and other types of rental housing.
Broadway Subway
This year, the Broadway Subway was officially approved with secured funding from higher levels of government. The extension of rapid transit along the Broadway Corridor is the top priority of the City of Vancouver's Transportation 2040 plan, and is the single most significant investment that could be made to support economic growth in the City and throughout the region.
Streets, utilities and facilities
This year the City also made investments to improve service and maintain and upgrade engineering utilities and transportation investments including for water, sewer and solid waste, and major and local road improvements. This also included improvements for snow response readiness and improved safety and security at City facilities and in parks.
Other key priorities accomplished this year include:
Reaching our target to create over 1,000 new childcare spaces
Approving a Women's Equity Strategy to make Vancouver a fair, safe and inclusive city for all women, including self-identified women
Giving Indigenous names to the Vancouver Art Gallery north plaza and to the space formerly known as the Queen Elizabeth Theatre Plaza
Delivering a formal apology for historical discrimination of Chinese residents in Vancouver
An increase of 450% in the number of Neighbourhood Cleanup Parties held
The Saa-ust Centre opening to support families during the inquiry into the missing and murdered Indigenous women and girls
Launching of the West End Participatory Budgeting Pilot to foster community and help the City decide where to invest funds
Rolling-out the 2018 election Get Out the Vote campaign for the municipal election including the introduction of a randomized ballot and the launch of Vancouver's first Kids Vote
Expanding the free public Wi-Fi throughout the city, making #VanWiFi the largest free public-Wi-Fi network in Canada one of the largest in North America
Being shortlisted for a chance to secure $50 million from the federal government as part of the Smart Cities Challenge.
Opening the newly renovated Vancouver Public Library - Central Branch that saw levels 8 and 9 expanded to include a café, reading room, offices, and a new community roof garden.
Ensuring two iconic Vancouver venues will remain open - a City grant contributed to the fundraising campaign to save the Rio Theatre, and the Hollywood Theatre was protected and will be reopened as part of a new development.
Despite these accomplishments in 2018, the City continues to face significant ongoing challenges including affordability within Vancouver and the opioid crisis. The City will continued to be focused on addressing these issues, including delivering the recommendations of the Overdose Emergency Task Force which will ensure greater investment into harm reduction, employment, treatment, and support programs.
2019 priorities
Looking forward to 2019, with the City's approved budget, the City will also prioritize the following areas:
Capital plan implementation
Following last week's approval of the $365.8 million for capital projects in 2019, the City will be able to conduct vital work to maintain and develop Vancouver's infrastructure. Granville Bridge will receive seismic and structural upgrades to ensure it is safe for years to come, and the City will continue major sewer upgrades as well as sewer separation to ensure our infrastructure resilient and meets the needs of our growing city. Acquiring land for new affordable housing and upgrading existing facilities will remain a priority, as well as creating a vibrant city by funding the renewal of Marpole Branch library and several community centres.
Equity strategy development
Over the coming year, staff will be working to develop an equity framework that will create a shared definition and applied principles across the City as a whole, with the goal of ensuring all Vancouverites have equal access and benefit from City services.
City wide plan
The City will also be embarking on a process to develop a long-term, city-wide plan. The development of a city plan will give Vancouver the opportunity to engage residents, youth, businesses, partner institutions, and civic organizations in a multi-year effort to create a clear and compelling vision for our city. Taking a city-wide approach will establish a clear framework to address rising issues in Vancouver such as housing affordability, environmental and social health, and long-term clarity around land use.
Renters' Advocate
The City is in the process of hiring a Renter Advocacy and Support Services Officer and establishing a City of Vancouver Renters Office to support renters and renter serving organizations in Vancouver and to provide coordinated over-sight of the implementation of the City's Tenant Relocation Policy.
As the City continues its work to build a vibrant, sustainable and resilient Vancouver, other priorities will include development of a poverty reduction strategy, a City-wide exercise to test earthquake preparedness and the delivery of the Creative City Strategy.