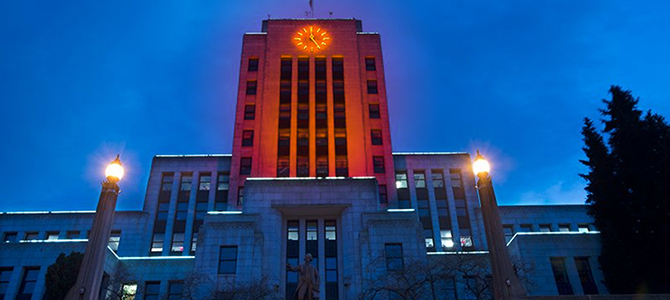 City to observe National Day for Truth and Reconciliation
September 21 2021 –
The City of Vancouver will observe National Day for Truth and Reconciliation on September 30, 2021. The City will close on the day to enable employees to take time to reflect and deepen their understanding of the intergenerational trauma of Residential Schools and how they can advance Reconciliation in their communities. Further recognition actions are planned and more details will be shared closer to the day.
All City services and access to buildings will be closed on September 30, including phone and online support. 3-1-1 will operate as usual for statutory holidays. These services will resume normal working hours on Friday, October 1. Residents and business owners can check the opening status of services before planning a visit, or contact 3-1-1.
The City of Vancouver calls on all residents and visitors of Vancouver to reflect on the harmful legacy of Canada's Indian Residential Schools and act on the Truth and Reconciliation Calls to Action in recognition of National Day for Truth and Reconciliation on September 30.
In June 2021, the federal government voted to recognize National Day for Truth and Reconciliation as a statutory holiday as a direct response to Call to Action 80 of the Truth and Reconciliation Commission.
September 30 is also recognized as Orange Shirt Day . Created by Residential School survivor Phyliss Webstad, orange shirts are worn on this day to honour the children who survived the Indian Residential Schools and remember those who didn't.
Learn more about the actions we've taken as a City of Reconciliation