City welcomes delegates to Vancouver for the 2017 International Sustainable Campus Network Conference
June 24 2017
"Hosting the ISCN provides a platform to share information, collaborate and problem solve with sustainability experts from around the world," said Doug Smith, Director of Sustainability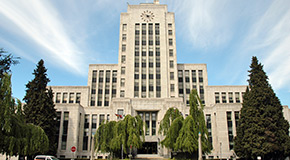 The City of Vancouver, together with the University of British Columbia (UBC), is proud to host the 2017 International Sustainable Campus Network (ISCN) Conference happening June 26-28, 2017, at UBC's Vancouver campus and Olympic Village.
The ISCN is a group of leading colleges and universities representing over 30 countries that work together to holistically integrate sustainability into campus operations, research, and teaching.
The ISCN supports this work by providing a global forum to exchange information, ideas, and best practices for achieving sustainable campus operations and integrating sustainability in research and teaching.
Climate. City. Campus.
The ISCN conference theme this year is Climate. City. Campus. Globally, climate change is one of the biggest issues of our time and regionally is where we're having the most impact at addressing climate change. There is tremendous opportunity for local universities to play a role in this.
This year's conference seeks to interweave each of these elements and provide a platform to share relevant examples from across the world.
The conference will demonstrate the power of collaboration between campuses and cities. Attendees will gain insight into the UBC-CoV relationship and see successful practical examples including:
City and Campus Strategic Relationships: Cities and universities develop relationships and collaborate for many reasons - to enable a thriving region, economy, community and learning environment. Brad Badelt (City of Vancouver), James Tansey (UBC Sustainability Initiative), Fletcher Beaudoin (Portland State University) and Brianne Mullen (Yale) will discuss why these relationships are so important and explore successful examples from around the world.
Scholars Idea Lab: Attendees will get an opportunity to explore the Greenest City Scholars Program - a unique collaboration between the City of Vancouver and UBC that engages 20 UBC graduate students every year to work on initiatives in the City's Greenest City Action Plan.
Quotes
Doug Smith, Director of Sustainability at the City of Vancouver
"This is a great opportunity for the City of Vancouver and our efforts to become the greenest city," said Doug Smith, Director of Sustainability at the City of Vancouver. "Hosting the ISCN provides a platform to share information, collaborate and problem solve with sustainability experts from around the world. Universities are where a lot of ideas are turned into viable solutions and partnering with UBC, SFU and other post-secondary institutions for innovative solutions are crucial to our success."
Dr. James Tansey, Executive Director with the UBC Sustainability Initiative
"Cities are the most important sites for innovation related to climate change," said Dr. James Tansey, Executive Director with the UBC Sustainability Initiative. "Universities play a crucial role in catalyzing this innovation by exploring, generating and demonstrating new ideas. UBC's collaboration with the City of Vancouver, including through the Greenest City Scholars Program, enables us to apply our research and expertise and mobilize knowledge in support of City's climate action goals. This conference brings together an international higher education community in order to explore city-university collaborations as a way to accelerate a sustainable urban transformation globally."
Zena Harris, Executive Director of the ISCN
"Our annual conference is one of the cornerstone activities of the ISCN and where a cross-section of those deeply involved with campus sustainability gather to cross-pollinate ideas, learn, and further sustainability in higher education." says Zena Harris, Executive Director of the ISCN. "ISCN 2017 is set in one of the most sustainability-oriented places on the world, Vancouver, British Columbia and we are thrilled to be working with conference co-hosts, University of British Columbia and the City of Vancouver."