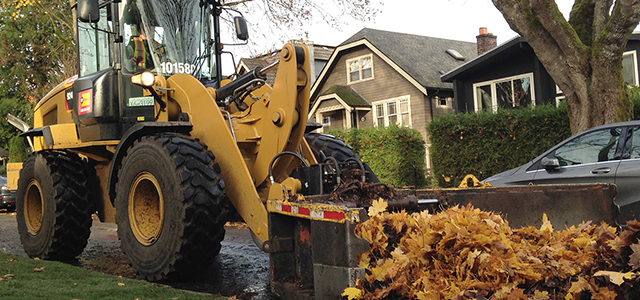 City-wide street leaf removal begins November 16
Move your vehicle when "no stopping" signs posted
November 12 2020 –
As fallen leaves blanket our city and with much of our tree canopy now bare, crews will begin clearing leaves from our streets starting November 16. Removing leaves from city streets helps prevents flooding and improves safety for pedestrians, cyclists, and motorists. Do your part by complying with all temporary "no-stopping" signs that will be posted a day in advance of leaf removal activities.
If temporary "no-stopping" signs are posted, you are required to move your vehicle(s) to another spot before 7am on the date indicated on the signs. It is very important that you move your vehicle as it allows our crews to do a much better job of clearing all of the leaves from the street.
Vehicles that are not moved will be towed to a nearby location and may receive a ticket. Vehicles with a SPARC permit will be returned to the same location once the street cleaning is completed.
Street cleaning schedule
Crews will begin their work in the north part of the city and proceed south. Advance sweeping may occur on streets with a higher volume of leaves.
View a map and schedule of street cleaning activities
Street cleaning dates shown on the map are a guideline only. The schedule can change as a result of weather, road conditions and available trucks and crews.
Do not rake or blow leaves onto the sidewalk, catch basin, bike lane, or street. Leaves in the street create a safety hazard for pedestrians and cyclists and can cause flooding. Depositing leaves in the street is prohibited under the Street and Traffic By-Law.
Leaf collection weekends continue
You are encouraged to rake leaves that fall on your property, the sidewalk, and boulevard and add them to your Green Bin. Extra leaves that do not fit in your Green Bin may be placed in paper yard waste bags or store-bought bins and set out for pickup on the following leaf collection weekends:
November 14 to 15 *this weekend*
December 12 to 13
January 9 to 10, 2021 (Christmas trees will also be collected)
Leaves set out in plastic bags will not be collected, including bags labelled as compostable or biodegradable plastic. To ensure pickup, set leaves out before 7am on the scheduled Saturday. Your leaves will be collected on Saturday or Sunday, but not both days. Green Bins will not be emptied on leaf collection weekends.
Find more information on our fall leaf program
Get collection reminders by downloading our VanCollect app on your smartphone.
What happens to the leaves
Leaves collected from city streets and during leaf collection weekends are turned into nutrient-rich compost at the Vancouver Landfill. This compost can be purchased by residential gardeners, commercial landscapers, and municipal park boards.
Leaves and other yard trimmings can also be dropped off for a fee at the Vancouver South Transfer Station located at 377 West Kent Ave North and at the Vancouver Landfill located at 5400 72 Street in Delta.