City's director of legal services receives Queen's Counsel designation
December 21 2017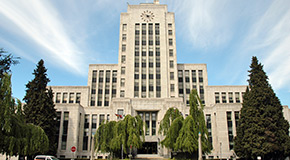 Francie Connell, Director of Legal Services and City Solicitor is one of 27 appointees to be recognized of the honorary title of Queen's counsel (QC) for 2017.
Francie has practiced law since graduating with distinction from the University of British Columbia (UBC) faculty of law in 1979. She has served as the chief legal advisor for the mayor of Vancouver, council, the city manager and senior city staff for 21 years. Connell is chief legal advisor to city-related agencies, such as the Vancouver Police Board, the Vancouver Economic Commission and the Vancouver Affordable Housing Agency. Connell's work as a lawyer and leader has contributed to improvements in environmental and community sustainability in Vancouver.
This year's 27 appointees are British Columbian lawyers, with a diverse set of professional specializations, including First Nations law, criminal law, commercial litigation, family law and mediation. The appointees have been chosen for their distinguished accomplishments in areas such as continuing legal education, community volunteerism and mentorship of new legal professionals.
The QC designation is deliberated upon each year by members of the legal profession who nominate their peers who have been members of the B.C. bar for at least five years. After the call for nominations in September, an advisory committee reviewed applications and recommended candidates to the Attorney General.