Community benefits from development - improving neighbourhoods and enabling affordable housing in Vancouver
June 4 2015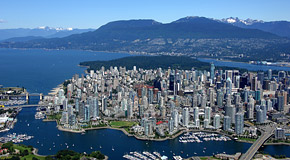 Two annual reports on public benefit contributions made by development will be presented to Council on June 10, the:
We are also releasing an independent report by Coriolis Consulting which shows that Community Amenity Contributions do not impact housing affordability.
Learn more about community benefits from development
Funds allocated
Development Cost Levies
In 2014, $62 million in Development Cost Levies (DCLs) were allocated to:
Affordable housing
Childcare
Parks
Engineering infrastructure
Community Amenity Contributions
We secured $234 million in Community Amenity Contributions (CACs) towards a variety of public benefits, agreed to as part of a site-specific rezoning where additional density is approved.
Council allocated funds from CACs in 2014 as follows:
Affordable housing: $111 million (resulting in 290 City-owned social housing units at Oakridge Centre)
Community facilities: $52 million (including Oakridge civic centre which includes a community centre, library and seniors centre; and Marpole Family Place)
Parks and open spaces: $40 million (including 10 Public Art contributions totaling $12.6 million)
Childcare facilities: $17 million (such as two childcare centres in the Cambie Corridor and a future childcare centre in the Central Business District)
Heritage conservation: $12 million (including $7.3 million transferred from the Heritage Density Bank)
Other: $2 million (sustainable transportation such as cycling and pedestrian improvements)
Public benefits
Public benefits play a key role in making Vancouver one of the most livable and walkable cities in the world. Partnering with others to deliver and maintain our recreation system and social facilities, including affordable housing, childcare, neighbourhood houses, and cultural spaces, is fundamental to making Vancouver a healthy city for all.
Through these allocations, we are ensuring that new development contributes community benefits to neighbourhoods where change is occurring. In some cases, funds are pooled from several projects to deliver much needed benefits in the city.
Allocation of these public benefits addresses the anticipated services and facilities required to support growth-related needs in community plan areas. They also help advance:
Council's city-wide public amenity and capital plan priorities
Support economic development
Ensure that services and infrastructure keep pace with the arrival of new residents, workers, and businesses
Findings from a report on CAC Policy and Housing Affordability
As an appendix to the annual report, we also released findings from a report on CAC Policy and Housing Affordability conducted by Coriolis Consulting. Coriolis finds that there is no evidence CACs are causing housing prices to rise and impact affordability in Vancouver. By looking at development activity within the city, the report found that CACs have had no direct impact on new housing supply or on the pace of new housing development.
The consultant found that to the contrary, CACs have been associated with an increase in our capacity to absorb new apartment development, and in some cases have been used to enable creation of affordable housing units that would not otherwise have been built.
Supplement to annual report
To supplement the annual report, we produced a booklet titled Community Benefits from Development: Improving Neighbourhoods and Enabling Affordable Housing. It describes Vancouver's approach to development contributions and explains the broader context of how we are meeting the needs of a growing city, including examples of a wide range of public benefits throughout the city.