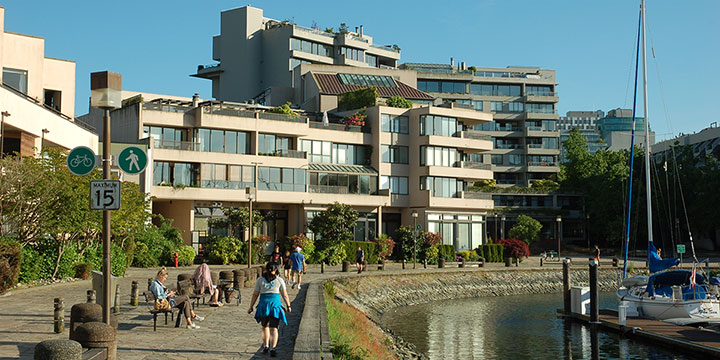 Community planning to begin in False Creek South
Council endorses targets for more housing in area
By adding more housing, especially co-ops and below-market rentals, without displacing current residents, a new generation will be able to call this unique neighbourhood home.
Mayor Kennedy Stewart
October 29 2021 –
City Council has voted unanimously to direct City staff to proceed with a formal community planning process for the City's lands in False Creek South.
Community planning process
The community planning process, which will be led by the City's General Manager, Planning, Development, and Sustainability, Theresa O'Donnell, will include comprehensive consultation with the public including False Creek South residents and community groups, other stakeholders, and First Nations. Council's direction followed four days of presentation and hearing from 124 speakers.
The community planning process is expected to begin in 2022. Over the coming weeks, a formal negotiation process concerning strata leasehold leases will be launched with the Strata Leasehold Society, and the City will begin discussions about lease extensions, and in some cases, redevelopment opportunities with the False Creek South co-ops.
Council also accepted for information a phased, multi-decade conceptual development plan for the area that was developed as a preliminary concept by the General Manager, Real Estate and Facilities Management. This plan contemplates changes to False Creek South over the coming decades that would result in significantly more diverse and affordable housing, more green space, better transit access, and enhanced social, cultural, and recreational amenities. The plan will be used to inform, but not constrain, the upcoming community planning process.
Background
The City holds the title to 80 acres of land in False Creek South that we steward on behalf of Vancouver residents, and which are situated on the unceded traditional territories of the Musqueam, Squamish, and Tsleil-Waututh Nations.
When the neighbourhood was built in the 1970s and 1980s, much of the City land was leased to tenants via 60-year ground leases, with most of the leases expiring in the next 15 to 25 years.
Quotes
Mayor Kennedy Stewart
"Tonight Council took a big step towards more affordable housing by directing staff to move ahead with community planning and resident consultations for False Creek South," said Mayor Kennedy Stewart. "We heard so many moving stories showing just how thriving and connected this community is, but also how difficult it is for new residents to put down roots here. By adding more housing, especially co-ops and below-market rentals without displacing current residents, a new generation will be able to call this unique neighbourhood home."
Karen Levitt, Deputy City Manager
"We are very pleased to have a clear way forward for planning the future of False Creek South, and for providing more certainty and clarity for the current residents of this neighbourhood," said Karen Levitt, Deputy City Manager. "The Council-directed community planning process that will be led by the General Manager of Planning is the best way for the City to hear from the community and from a variety of other important stakeholders, and to engage with the Musqueam, Squamish, and Tsleil-Waututh Nations, in order to inform the City's long-term plans for these publicly-owned lands."
Councillor Rebecca Bligh
"This process was an incredibly important one, one where residents could have their voices heard and information about the future of False Creek South could be shared publicly and transparently. In doing so we, as a council, were able to amend what we heard into the final decision so that residents who have worked for decades to make the False Creek South community what it is could sleep knowing their community is valued and will be involved in what the future looks like."
Councillor Christine Boyle
"It was incredibly moving to hear from so many residents who love their neighbourhood and who genuinely want to welcome new low-income and middle-income neighbours into the area. False Creek South residents spoke about being part of a mixed income, mixed tenure, neighbourhood. Residents told Council how much they valued being part of a community where kids run around without a fear of cars, and parents raise kids without a looming fear of eviction. This should be the case everywhere across Vancouver. Council heard the stories from residents, and acted in response. The upcoming False Creek South planning process will be a chance for us to imagine the next 15 years and the next 50 years, together. With current residents and in the service of future residents, too."
Councillor Adriane Carr
"More than 120 speakers spoke to City Council of their love of their neighbourhood of False Creek South. They implored us to be visionary in regards to its future, as City Council was in the 1970s. Council listened. We worked collaboratively. Staff provided stellar support. Every amendment was passed unanimously, including mine directing staff to aspire to a bold, visionary goal of False Creek South as a model livable city community—a model of affordability, social equity and inclusion; of sustainability; and of climate action."
Councillor Pete Fry
"Tonight, Council set direction for 32 hectares of City-owned land at South False Creek to be shaped by a robust, transparent planning process to negotiate new leases, new homes, and the future of the site. A lot of work went into this: great work by our staff to set a framework of fiduciary responsibility and give context to our role as landowners; lots of great input from community and experts, on what this area is and could be; and really great work by all of Council who came together on a long-overdue decision and direction. I'm excited to be one of two Council Liaisons selected to help further this work to come."
Councillor Colleen Hardwick
"False Creek South has been internationally recognized as an example of 'getting it right' in urban design since its inception in the mid-1970s. The original plans took advantage of the best knowledge of the day for creating livable communities. This complex neighborhood was designed and constructed drawing on an exceptional interactive consultative public process. The right thing to do today is to build on these achievements. I am encouraged that the City of Vancouver has reaffirmed its commitment to FCS as a truly livable community."
Councillor Sarah Kirby-Yung
"The decision taken by Council tonight will move the renewal of False Creek South forward by renewing leases to alleviate stress for residents, and by launching into a community planning process that will enable the existing residents to help set the vision for the next evolution of the neighbourhood in a way that respects them, builds on the livability of the area and welcomes new neighbours by adding new homes. The community needs to grow, but we are better working together. Growing housing and affordable housing in a way that builds livable, complete communities is the goal. I want to see a bigger role for the non-profit sector and that's why I added an amendment to work with the sector on creative approaches and to maximize affordability. It's also why I added amendments to protect and preserve Charleson Park for generations to come and to explore and advance a case for a transit service that would connect Olympic Village to the renewed False Creek South neighbourhood, the Molson site, and to Senakw, building off of current City streetcar policy."
Councillor Michael Wiebe
"After some sleepless nights, it feels good that the community, Council, and staff were able to come together on a solution. A solution that includes a new approach to community planning to ensure False Creek South continues to be a model livable community for future generations."