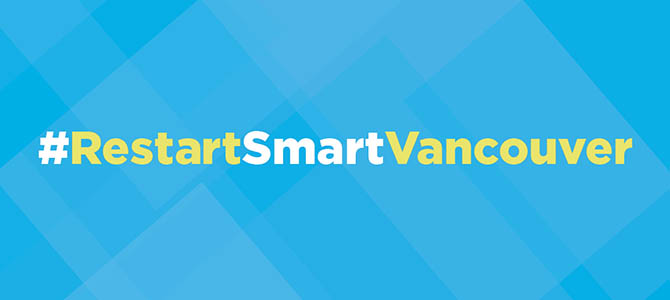 Community work is key to collectively surviving COVID-19
We are extremely grateful for our partnerships with dozens of community organizations and senior levels of government who have been working to keep our residents safe.
City Manager Sadhu Johnston
June 12 2020 –
Three months since the provincial State of Emergency was declared, active cases are falling and Vancouver is restarting smart. It has taken the efforts of countless local resident volunteers, organizations, and essential workers to keep our city safe during the pandemic, especially in our most at-risk communities.
Even before the State of Emergency was declared, the City of Vancouver convened a public partner, cross-department team to consider how to address the anticipated needs of people who were likely to be impacted the most. Within days of the State of Local Emergency declaration, dozens of Downtown Eastside and Downtown South residents were also hired through non-profits and social enterprises to support the response, lead local level initiatives and provide an on-the-ground, real time information and response.
Community Resilience team's work
Mobilizing community response
Accessible information on topics including COVID-19 symptoms, handwashing tips, overdose prevention, safe supply, and income assistance were shared with people living in the Downtown Eastside through City-funded peer outreach workers via the Enhanced Community Stewardship Program managed by CIRES (Community Investment Real Estate Society) and the DTES Resident Network. Over 100 peer workers continue to be employed weekly in the COVID-19 recovery period which is currently funded until September. (35 KB)
CIRES (Community Investment Real Estate Society) convened DTES non-profit and social enterprise agencies to provide a diversity of food and employment options for highest risk residents to continue to take care of each other in the neighbourhood. Urban Indigenous community leaders have provided outreach/cultural wellness supports; sex worker outreach; drug policy advisors and outreach; newcomer and street-based informal economy worker opportunities.
The DTES Resident Network, led by Karen Ward, the City's advisor for COVID-19 response and drug policy, ensured information was available for residents who may not have access to technology and traditional media, and who trust community sources of information.
Reaching residents in multiple languages
The City established an Equity and Inclusion team within the Emergency Operations Centre (EOC) to support community resilience, help lower barriers to accessing timely, critical information, and work to ensure historically underrepresented groups disproportionately impacted by the pandemic are part of and included in the emergency response.
The team works to translate key resources, including regular City updates, a map of free and low-cost food services, and more. These multilingual resources can be found on the city's website at vancouver.ca/covid-19: Traditional Chinese, Simplified Chinese, Punjabi, Tagalog, Vietnamese, Farsi, and Korean.
Several radio and virtual town halls were held for groups that have been historically discriminated against and marginalized to provide feedback and ask questions to the City Manager and COVID-19 Task Force Chief.
Standing up to racism
The City partnered with the Province to proclaim May 29th a Day of Action Against Racism and begin an anti-racism public awareness campaign in response to a concerning increase in anti-Asian racism in the wake of COVID-19. (6 MB)
A set of translated resources , including posters and social media graphics, have been created for residents and businesses are encouraged to download and share to help reiterate that there is no place for racism in Vancouver. (12 MB)
Improving hygiene and washroom access
Cleaning kits were provided for 500 residents living in privately owned Single Room Occupancy hotels (SROs) and resources were shared with building managers encouraging proper cleaning protocols were followed.
The City worked with BC Housing to carry out 347 weekly disinfecting cleans, funded by the Province, to approximately 50 private SROs and other low-income housing with congregate washrooms.
Three temporary washroom trailers were installed in the Downtown Eastside and Kingsway to ensure that residents, especially women, 2SLGBTQQIA, gender diverse residents and those that are homeless or living in precarious housing have access to safe and hygienic facilities. The trailers are staffed and monitored by peers from WISH, RainCity Housing and Overdose Prevention Society, to improve safety for those who are using them. Free menstrual products are provided at all three locations.
11 portable handwashing stations were installed in the DTES almost immediately. These were replaced with six robust handwashing stations with bottle filling facilities. A map of facilities is frequently updated on the City's website. (165 KB)
Ensuring access to food
With funding from both the City and the Province (through BC Housing) healthy meals were provided for more than 4,800 residents in City-owned or operated SROs, non-market housing and private SROs to ensure that residents were able to practice safe social distancing and access food during a time when low-cost meal services were declining.
Charitable meal providers were connected to delivery supports, information about safe food provision, as well as donations of ingredients/meals/fridges/take out containers.
Staff conducted supply chain assessments. Work is still underway to analyse the impacts of COVID-19 on the food sector.
Non-profit organizations, social enterprises, local workers unions, Park Board facilities, and restaurants stepped up to make meals for residents who had limited access to food.
A map was launched to help residents access free or low cost food programs open during COVID-19. (219 KB)
Three City spaces were made available for food hamper distribution.
Improving access to income
The City worked with Pigeon Park Savings and Vancity to encourage bank account sign-ups so that residents did not need to collect or cash cheques in person.
Standard membership fees and ID requirements were waived which resulted in over 200 new accounts being opened.
Pigeon Park Savings worked with residents to offer a five-week savings plan to allow residents to access their income, including the new provincial emergency supplement ($900 over three months, $300 in April, May, and June) for Income Assistance recipients.
For residents collecting and cashing cheques in person, peer managers were redeployed from the DTES Street Market operated by Vancouver Community Network and funded by the City helped to manage high volume areas, including sidewalk spaces, continuing to encourage two metres of physical distance.
Improving access to safe and secure places to sleep
Working with BC Housing and Vancouver Coastal Health, the City activated the Coal Harbour Community and Roundhouse Community Centres as Emergency Response Centres.
Staffed 24/7 by Lookout Housing and Health Society and Community Builders Group, the Centres provided additional shelter capacity for people experiencing homelessness who needed a safe and supportive space to sleep.
The Centres are no longer accepting referrals and staff are working to relocate existing guests to other shelter and housing options.
Park Board staff will work to reactivate the community centres to normal operation as soon as possible, in accordance with public health directives and more information will be shared when available.
Supporting overdose prevention and safe spaces
Working in partnership with VCH, the City continues to support overdose prevention through the provision of expanded outdoor safe space and education. The Emergency Response Centres also operate overdose prevention sites for guests.
The City worked to support VCH in promoting implementation of the new provincial withdrawal management guidelines through education led by members of the Vancouver Community Action Team, including frontline workers, community organizations, and people who use drugs.
The Downtown Eastside resident crisis response team distributed thousands of copies of the BC/Yukon Association of Drug War Survivors 'How to access safer drugs now' brochures. The steps outlined were created from the British Columbia Centre on Substance Use guidelines with the goal of risk mitigation during the dual public health emergency.
Supporting the Urban Indigenous pandemic response
The City continued to prioritize Urban Indigenous priorities led by the Metro Vancouver Aboriginal Executive Council (MVAEC). The City brokered donations and funding for urban Indigenous-led organizations and projects as well as worked to support emergency responses that have benefited Urban Indigenous people as part of wider efforts.
Coordinating community contributions
The City acted as an advisory partner for the Vancouver Foundation's Community Response Fund, which has so far granted $9.4 million to 272 agencies and organizations. A list of recipients is available here. Other partners include VanCity and the United Way of the Lower Mainland.
As BC's Restart Plan gets underway, the City encourages residents to continue following advice to keep transmission low .
Find more information on the City's COVID-19 response
Quotes
Sandra Singh, General Manager, Arts, Culture and Community Services
"The unrelenting overdose crisis, combined with the closure and reduction of service at key facilities, and reduced access to food, hygiene and indoor respite spaces, has made things very difficult. The vulnerability factors have increased for residents who were already experiencing barriers to basic essentials needed to survive prior to this pandemic."
"Over the last ten weeks, our Emergency Operations Centre's Community Resilience team has worked hard to ensure that these communities who have been disproportionately affected by COVID-19 were not overlooked. "We're grateful for the work of all of our partners – peer workers and resident community responders, non-profits and social enterprises, MVAEC, CIRES, BC Housing, Vancouver Coastal Health, Provincial departments, and private donors, and all the frontline workers who offer vital services and support to residents under the most challenging of circumstances. The dedication of our frontline workers, especially in recent months, is humbling."
City Manager Sadhu Johnston
"Providing support for communities who were disproportionately affected by COVID-19 has been one of our main priorities over the past three months," said City Manager Sadhu Johnston. "We are extremely grateful for our partnerships with dozens of community organizations and senior levels of government who have been working to keep our residents safe. Thank you to the Province of B.C whose funding has ensured people continued to access to healthy meals, clean living areas in low-income housing and, through the activation of our Emergency Response Centres, a safe place to sleep."