Council appoints new city clerk and chief election officer, following retirement
January 22 2018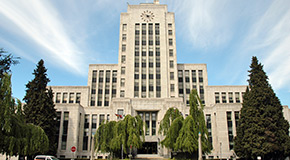 Last week, Vancouver City Council appointed Katrina Leckovic into the role of city clerk. She will formally take the position on March 23, 2018. Katrina brings a wealth of experience to the role, having worked as director, Legislative Operations and deputy city clerk in the City Clerk's Office since February 2016.
She currently holds the statutory role of deputy city clerk, providing parliamentary oversight to Standing Committees and Public Hearings of Council; exercises the powers, functions and duties of the city clerk in their absence; and manages the function of over 20 City advisory committees and boards (includes over 300 members of the public).
Katrina led the creation of the Policy Management Framework for the City and currently serves as a director on the Lower Mainland Local Government Management Association Board. Katrina has a Master of Planning from Dalhousie, BS Environmental Science from University of New Mexico, and a Certificate in Local Government Administration from Dalhousie. She is also a former professional touring golfer.
Chief election officer for the 2018 municipal election
In addition to this appointment, City Council, based on the recommendation of staff, will appoint Rosemary Hagiwara, director of Business and Election Services and deputy city clerk to the position of chief election officer for the 2018 municipal election, effective immediately.
Rosemary previously has served as the deputy chief election officer responsible for overseeing and delivery of the 2017 by-election. In the 2014 municipal election, Rosemary managed the planning and execution of the election strategic plans.
The current city clerk, Janice MacKenzie, will retire in March from the City of Vancouver after 18 years of service as deputy city clerk, then city clerk. Janice was also chief election officer in 2011, 2014, and 2017. Janice has held both responsibilities of city clerk and chief election officer previously.
Moving forward, two separate appointees will take on the jobs of city clerk and chief election officer so that both roles are managed independently, and the dedicated resource of the chief election officer will support the City to meet its objectives in this fall's municipal election.
The City wishes Janice MacKenzie all the best in her retirement.