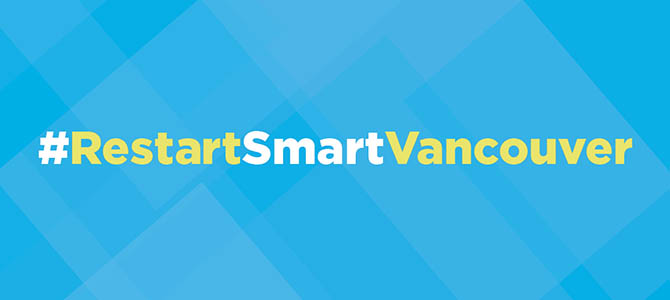 Council approves COVID-19 Recovery Committee report, with 41 priorities for City's pandemic recovery
July 31 2020 –
The Vancouver City Council COVID-19 Recovery Committee (CCRC) unanimously approved its final report on Wednesday, summarizing the recommendations from a series of meetings with experts and stakeholders who provided advice on how the City can ensure a successful recovery from the pandemic.
Since forming in May the committee has heard from 23 different individual experts and stakeholder organizations, and considered a total of 148 recommendations, including actions for the City to take and items to advocate for with senior levels of government. The committee identified 41 of those recommendations as highest priority.
City staff will be evaluating and, as appropriate, integrating the findings and conclusions of the CCRC into the City's COVID-19 Recovery Program and other work streams.
The CCRC - a committee of the whole of City Council - was created with a mandate to seek, share, and discuss information regarding COVID-19 pandemic response and business and community recovery planning, and to provide recommendations for Council decision on the COVID-19 response and on a social, economic, and fiscal COVID-19 recovery plan for the City of Vancouver.
View the committee's report (1.4 MB)
Priority recovery themes
The priority recovery themes for the committee included:
Economic recovery and complete communities
New fiscal tools for the City
Housing and homelessness
Municipal government role and response
COVID recovery and the climate emergency
People who live and work in Vancouver have been doing a great job of reducing the spread of COVID-19 and we are asking everyone to:
Stay Strong – keep two metres apart, do not attend large gatherings, and stay home if you are feeling unwell
Stay Local – support your neighbourhoods and local businesses
For the latest information on what is open and other COVID-19 information, check our website vancouver.ca/covid19 or our social media channels.
Quotes
Councillor Adriane Carr, committee co-chair
"This week marks the end of an intense three months of work in the Council COVID-19 Recovery Committee, and the start of what will be an equally intense and super important effort to put the recommendations into action," said Councillor Adriane Carr, committee co-chair. "This committee - created as a result of my April 14 motion - has been a labour of love for me and, I believe, a success both in terms of the collaborative process and the results. Highlights for me are the recommendations that aim to use COVID-19 recovery plans and senior government stimulus funding as a means to simultaneously tackle the climate and housing emergencies with programs to build zero carbon affordable housing, and fund energy retrofits of buildings."
Councillor Lisa Dominato, committee co-chair
"Some of the key findings from the committee are that planning for a more resilient city is critical, as is supporting the backbone of our local economy - our small business sector," said Councillor Lisa Dominato, also committee co-chair. "While the pandemic has brought many challenges, it has also pushed us to re-imagine urban planning, and hopefully there are some positive changes that emerge such as our use of public space, delivery of City services, and capacity to respond more quickly to emerging and systemic issues."
Councillor Christine Boyle
"The COVID pandemic has exacerbated existing inequalities, across Vancouver and beyond. Our COVID response needs to focus on tackling inequality, and building back better with a strong focus on climate and equity. This will require ambitious levels of public investment, and a renewed role for public services. If there's one clear lesson we've learned during this crisis, it is that our own health and safety is connected to the health and safety of those around us. Each in their own way, our COVID Recovery Committee guest speakers reiterated that to recover from this crisis, we need one another, and we need to work together."
Councillor Sarah Kirby-Yung
"For me, I'm glad the work of the Council COVID-19 Recovery Committee really underscored some critical priorities and opportunities. Those include being flexible and nimble and streamlining City processes to help our small businesses survive. Zeroing in on where the City can make the biggest impact in our climate work by advancing smart policy to reduce building emissions and by planning for complete communities that include local amenities and locally serving businesses. And, critically, being bold on social and non-profit housing by quickly issuing a large RFP to non-profits through bundling City-owned sites, and enabling those non-profit groups to do what they do best and deliver as much badly needed housing as we can as quickly as possible."