Council confirms appointment of Theresa O'Donnell as new director of planning
Theresa has a well-earned reputation as a problem-solver, and I know we can rely on her professionalism and experience to help build a Vancouver that works for everyone.
Mayor Kennedy Stewart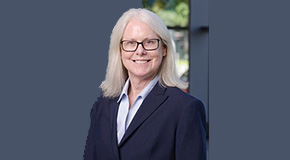 April 28 2021 –
City Council has appointed Theresa O'Donnell as Vancouver's new director of planning and general manager of Planning, Urban Design, and Sustainability, effective immediately.
O'Donnell has an extensive background with more than 30 years in policy development, program administration, and economic development, including as director of planning and development for the cities of Las Vegas, Nevada and Arlington, Texas. She also served as director of sustainable development and construction, interim assistant city manager, and chief resilience officer for the City of Dallas, and has managed multimillion dollar operating and capital budgets. O'Donnell joined the City of Vancouver in March 2019 as deputy director of planning.
O'Donnell's achievements
Examples of O'Donnell's achievements in her previous role at the City include:
Led the shift to virtual public hearings during the pandemic, working in concert with the City Clerk's office; Vancouver was one of the first cities in the region and the province to resume public hearings and keep the essential work of the development industry moving
Brought together a multi-departmental effort to streamline and simplify the rezoning and development processes at the City
Quickly forged strong relationships with development industry partners and led an organizational culture shift to innovation, best practice and responsiveness
O'Donnell will lead the City's work on planning, policy, urban design, and major development negotiations. She is also a voting member of the Development Permit Board. O'Donnell has been acting in this position since the departure of Gil Kelley in March 2021. The director of planning is appointed by City Council under Section 560 of the Vancouver Charter and reports to the city manager.
O'Donnell holds a bachelor of landscape architecture degree from Texas Tech University and a master of public administration degree from the University of Texas.
Quotes
Mayor Kennedy Stewart
"On behalf of City Council, I'm beyond thrilled to welcome Theresa O'Donnell as our new director of planning, a role that has never been more critical as we start building back from the COVID-19 pandemic and renew our focus on delivering housing that works for residents," said Mayor Kennedy Stewart. "Theresa has a well-earned reputation as a problem-solver, and I know we can rely on her professionalism and experience to help build a Vancouver that works for everyone."
City Manager Paul Mochrie
"Theresa is a highly-qualified and more than capable candidate, and I am very pleased that she has agreed to take on this important position that plays a key role in planning Vancouver's future," said City Manager Paul Mochrie. "In addition to her extensive professional experience, Theresa has already demonstrated her leadership in her work to date at the City and brings strong relationship and team building to the table, as well as a proven commitment to equity in her work."
Theresa O'Donnell, director of planning and general manager of Planning, Urban Design, and Sustainability
"It is an honour to serve the City of Vancouver as the general manager of Planning, Urban Design and Sustainability, and I am grateful for the trust and confidence the mayor, City Council and city manager have placed in me," said O'Donnell. "I have the distinct privilege of working alongside a highly skilled team of talented professionals who are eager to learn, innovate, and bring fresh solutions to the challenges facing our city. They inspire me every day and I am excited by what we will achieve together."