Cycling routes see record usage
August 27 2014
"It's great to see that city investments in safer cycling are paying off and making it easier for people to choose active and affordable transportation," said Mayor Gregor Robertson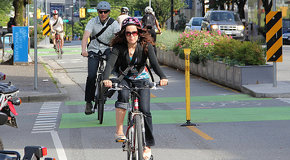 Cycling routes and separated bike lanes have seen record numbers throughout the month of July.
This year, the Burrard Bridge bike lane marks its fifth year in use, seeing more than five million trips since its installation.
"It's great to see that city investments in safer cycling are paying off and making it easier for people to choose active and affordable transportation," said Mayor Gregor Robertson. "Record levels of bike trips are proof that more people will cycle if we make it safer and more convenient for them to get on their bikes. Making it easier for people of all ages to bike in Vancouver is part of our goal to become the greenest city in the world by 2020."
Recent bike network improvements
Bike network improvements made over the summer:
Safety improvements at the south end of Burrard Bridge
New intersection layout at Burrard and Cornwall
Extension of the bike route out to Point Grey Road
Bike lane statistics show an increase in the number of bike trips
Burrard Bridge bike lane
This summer, the Burrard Bridge bike lane has seen record bike traffic month over month, with July hitting a record number 195,000 bike trips up from 161,000 in July 2013 — a 21 per cent increase.
Seaside Greenway bike route to Point Grey Road
Following construction and improvements, weekday numbers jumped to 1,500 bike trips daily average in June 2014 — a 150 per cent increase compared to the averages prior to the construction of the Seaside Greenway bike route to Point Grey Road. The average weekday number of cyclist trips was 600 in August 2012. 
Hornby Street separated bike lane
Hornby Street hit a record with 71,000 cycling trips compared to the previous record of 68,000 trips in 2011.
Dunsmuir Street and Viaduct separated bike lanes
In July 2014, the Dunsmuir Street and Viaduct bike lanes saw the second highest months on record:
Dunsmuir Street: 65,000 cycling trips
Dunsmuir Viaduct: 66,000 cycling trips
View monthly separated bike lane statistics
City's commitment to cycling
Bike counters – manual surveys/counts and automated counters – have been in place in the city since the mid-1990s. Separated bike lanes are part of the City's commitment to make cycling safe, convenient, comfortable and fun for people of all ages and abilities, as outlined in the Transportation 2040 plan.