2017 Budget invests in affordable housing and service improvements
November 23 2016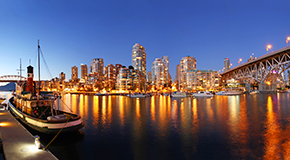 Today we released our proposed $1.32 billion Operating Budget and $485 million Capital Budget for 2017.
The budgets are designed to address key priorities like affordable housing, public realm cleanliness, and transportation, while continuing to support residents, business growth, and safe neighbourhoods, as well as address urgent challenges such as severe mental health and addictions.
In particular, this year's capital budget invests $80M in affordable housing – the most in Vancouver's history.
Budget priorities
The 2017 Budget focuses on:
Addressing housing needs and building new affordable housing
Improving services, such as reducing wait times for permits and licensing
Investing in child care and services like libraries and fire response
Maintaining our financial health and fostering Vancouver's economy, which leads the nation in economic growth
Making Vancouver a greener, more resilient city
Property tax increase among lowest in Lower Mainland
The 2017 Budget includes a property tax increase of 3.4%, comprised of 2% to support existing services – in line with forecasted inflation – and 1.4% to fund investments to address the challenges and opportunities of a growing city.
Over the past five years, we have consistently had one of the lowest property tax increases among Lower Mainland communities, at an average of 2%.
The property tax increase amounts to an extra $72 annually per median single family unit (assessed at $1.39 million), and $25 per median strata unit (assessed at $478,000).
Operating budget highlights
The $1.32 billion 2017 Operating Budget (up from $1.26 billion in 2016) includes $22.3 million in major investments, such as:
$8.8 million directed to public realm cleanliness initiatives, adding new fire trucks, and operating costs for the new nə́c̓aʔmat ct Strathcona library branch
$1.9 million for arts and culture, including funding for VIVA Vancouver, support for the film industry, Canada 150+ celebrations, and the VPL Inspiration Lab
$5.3 million to improve City operations, including reducing permit and licensing wait times
Capital budget highlights
The $485 million 2017 Capital Budget (up from $325 million in 2016) includes:
$80.1 million for affordable housing
$233.9 million for utilities and transportation
$47.1 million for parks, opens spaces, and recreation
$61.3 million for civic and community facilities
$41.9 million for equipment and technology
$14.6 million for childcare
New social and supportive housing units to come
We also plan to support the creation of 1,885 new units of social and supportive housing with funding from the Capital Plan supplemented by funding from senior governments and non-profit agencies.
In addition, we anticipate that 665 new units will be created via inclusionary zoning policies and as in-kind Community Amenity Contributions from rezonings.
Majority satisfied with services
About 75% of Vancouver residents surveyed this year say they are satisfied with City services.
We receive the strongest satisfaction ratings for our provision of basic services (sewer, water, drainage), fire prevention and responding to medical calls, and garbage collection, composting, and recycling.
Fiscally, the City of Vancouver continues to maintain its AAA credit rating and remains a national leader in economic growth.
Learn more at a Budget Dialogue session on November 30
Residents are invited to a Budget Dialogue session Wednesday, November 30, from 5:30 to 8 pm, at the Roundhouse Community Arts and Recreation Centre, 181 Roundhouse Mews, at the corner of Davie and Pacific. City staff will make a presentation at 6:45 pm and will be available for questions.
This will be your chance to discuss and review the budget with City staff before it goes to City Council for presentation at a special Council meeting December 7, 2016.
Council will then vote on the 2017 Budget on December 13, at the regular Council meeting.
Register to speak at the special Council meeting on December 7
Email your request to City Clerks or call 3-1-1.
You can also send questions or comments to staff or Council by calling 3-1-1 or emailing:
Learn more about the 2017 Budget