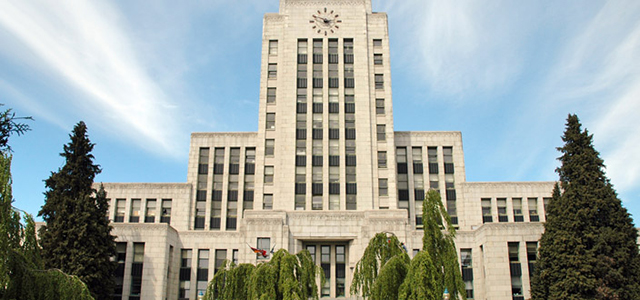 Events, decisions, and reports at City Council for the week of July 19
July 23 2021 –
Vancouver City Council met electronically this week to hear and discuss a variety of topics during Council, Public Hearing, and Standing Committee on City Finance and Services meetings.
Tuesday, July 20
This week's Council meeting began with a staff presentation from Aftab Erfan, Chief Equity Officer, on the (5.8 MB)City's Equity Framework . Council heard from two speakers, asked questions of staff, and (516 KB)approved adopting the Equity Framework, with an amendment.
"This is critical work that really promises to make a meaningful difference as our organization takes stock of some of the foundational aspects of systemic discrimination and barriers," said Councillor Pete Fry. "Thank you to staff and the voices that shared their lived experience and reflections on equity to help build this framework. These can be difficult and even painful conversations to relate, and we're grateful for their courage and willingness to expose themselves in the interest of building a better and more just City."
Council approved a communications memo and several reports:
Several referral reports, by-laws, and administrative motions were also approved:
The following motions were referred to the Standing Committee meeting on Wednesday, in order to hear from speakers:
Council then approved two new business items with amendments, "City of Vancouver Support for Including Local Governments in the Province's DRIPA Action Plan" and "Exploring Hosting the 2026 FIFA World Cup in Vancouver".
Wednesday, July 21
The Standing Committee on City Finance and Services meeting began with approving the Proposed Amendment to Subdivision By-law 5208 – Reclassification of 585 East 52nd Avenue and (144 KB)Front-ender Agreements . (94 KB)
Staff gave a presentation on the (6.4 MB)Vancouver Plan Update and Quick Start Actions . After hearing from six speakers and asking staff questions, Council approved the recommendations with amendments. (4 MB)
"Reframing the Vancouver Plan initiative to streamline its scope and focus was a needed and key decision by Council this week," said Councillor Sarah Kirby-Yung. "The new approach will deliver a high-level land use plan by October 2022 that will help guide growth and neighbourhood context. It will also fill the gap that Vancouver is the only local metro municipality without an official community plan.
"The Vancouver Plan work will be guided by key goals including the critical importance of enabling complete communities that provide not just diverse housing options, but also support livability through the provision of parks and green space, community centres, services, and amenities like neighbourhood grocery stores. If we truly want to meet our sustainability goals, we need functional neighbourhoods that provide accessible transit and services. Positive planning versus punitive policies will have the biggest impact."
Next, staff gave a presentation on (2 MB)Issues Report: Consideration of Rezoning Proposal at 1477 West Broadway (South Granville Station) . After hearing from five speakers and asking staff questions, Council approved the recommendations. (879 KB)
Council also approved the Contract Award for the Provision of Parking Meter Equipment . (50 KB)
Council then heard from 12 speakers and approved Supporting Community-Led Public Safety in Mount Pleasant with amendments . (47 KB)
"This week Council affirmed its support for a new community policing centre in Mount Pleasant for this growing neighbourhood," said Councillor Sarah Kirby-Yung. "As independent not-for-profit societies, CPC's support community safety through volunteers and programs that respond to local community needs. Their initiatives are broad and range from women's safety seminars to block watch, needle pickups, clean-ups, seniors outreach, community events, and more. I believe a Mount Pleasant community safety centre can play a positive and proactive role in bridging gaps and helping connect people to local social services."
After hearing from three speakers on Considering Youth Housing Needs within the City's Housing Strategy , the meeting was recessed and scheduled to reconvene on Thursday morning to continue debate and decision on this item, and complete the rest of the agenda. (51 KB)
Thursday, July 22
At the reconvened Standing Committee on City Finance and Services meeting, Council debated and unanimously approved Considering Youth Housing Needs within the City's Housing Strategy . (51 KB)
Council also approved Planning to Support Distributed Ambulance Services in the City of Vancouver with an amendment, after hearing from one speaker. (23 KB)
"The recent heatwave exposed an inherent and dangerous fragility in our first responder infrastructure that advocate have been warning of for years," said Councillor Fry. "Even though ambulance services are the responsibility of the province, I am encouraged that the City will be taking actions to help ensure that ambulance service stations can be located and sustained within our city, and for the good of Vancouverites."
The meeting then turned to Planning for Extreme Heat and Air Quality Mitigation in Vancouver . After hearing from one public body representative speaker, as well as four public speakers, this was unanimously approved. (135 KB)
"The Vancouver City Planning Commission report has well articulated that climate events are disproportionally impacting vulnerable populations in ways that we might inherently assume but hadn't explicitly prepared for," said Councillor Fry. "As we can imagine a future with more extreme weather events, this VCPC memo is a clarion call that we need to build and legislate a more resilient infrastructure for a variety of residents and across our city."
The next Special Council meeting is scheduled for Monday, July 26, at 9:30am.
The next regular Council meeting is scheduled for Tuesday, September 21, at 9:30am. Find agendas and meeting reports on council.vancouver.ca.