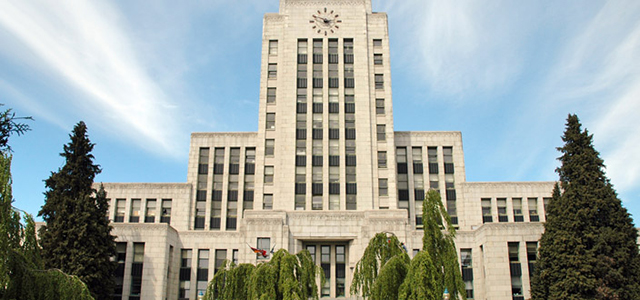 Events, decisions, and reports at City Council for the week of November 1, 2021
November 4 2021 –
Vancouver City Council met electronically this week to hear and discuss a variety of topics during Council and Standing Committee on Policy and Strategic Priorities meetings.
Tuesday, November 2
This week's Council meeting began at 9:30am with remarks from Mayor Stewart on the passing of Lillian Howard, the former co-chair of the Urban Indigenous Peoples Advisory Committee, and a moment of silence observed by Council. Following this, Mayor Stewart acknowledged Diwali.
A staff presentation was then given by Colin Knight, Director, City-wide Financial Planning and Analysis, on 2022 Budget – Tax Scenarios and Options. (539 KB)
Following this, Council approved to be adopted on consent agenda the following memos Changes to 2022 Council Meetings Schedule and (55 KB)Deputy Mayor and Roster of Councillors to Represent Council - 2022 , as well as a report on (109 KB)545 East Cordova – (RHI 2) Grant Agreement between The City and Lookout Housing and Health Society. (94 KB)
The staff report – 2022 Fee Increases for Rezoning, Development, Building, and Other Related Permits was then presented and approved, at which point Council recessed. (606 KB)
Council reconvened at 3pm to address the By-laws, approving By-law 1 and (274 KB)By-laws 2 to 24 . Administrative motion 1, (3.1 MB)Approval of Form Development: 177 West Pender Street , was approved. (1.3 MB)
Council motion 1, Requests for Leaves of Absence , was approved, while Council motion B2, (38 KB)Increasing Public Participation at City Council by Providing Earlier Access to Agendas and Reports , was out of order. Council motion B3, (16 KB)Plant-Based Purchasing Savings for City and Climate , was referred to the Standing Committee on City Finance and Services meeting on Wednesday, November 3, in order to hear from speakers. (25 KB)
The Public Hearing began at 6pm with a staff presentation on Streamlining Rental Around Local Shopping Areas . Council asked two rounds of questions to staff and began hearing from speakers. The Public hearing recessed and will reconvene on Thursday, November 4 at 6pm. (36 KB)
Wednesday, November 3
The Standing Committee on City Finance and Services meeting began at 9:30am, where they received the Climate Emergency Action Plan Annual Update for information, and approved the following: (2.6 MB)
Thursday, November 4
The Public Hearing (reconvening from November 2, 2021) will commence at 6pm.
The next Council meeting is scheduled for Tuesday, November 16, at 9:30am.
Find agendas and meeting reports
Quotes
Councillor Pete Fry
"Over two briefings this week, we learned Vancouver is facing another difficult budget as we recover from pandemic shock and growth of our expenses still outpace revenue; and that we are falling well short of our climate and greenhouse gas reduction targets," said Councillor Pete Fry. "The two aren't unrelated: failure to act now and budget for climate change mitigation efforts alongside delivery of core city services means we will be facing even bigger bills for climate resilience in the months and years to come."
"Good environmental and sustainability news as Council unanimously approved resolution to adopt a strategy of at least 20% plant-based options in our food procurement," said Councillor Pete Fry. "Vancouver will be joining other C40 cities in seeking to reduce our carbon footprint by reducing procurement of carbon-intensive meat-based foods. This is also good news for future budget savings, but also healthy diets, reducing food waste, meeting growing consumer demand for vegan and vegetarian food choices, and supporting Vancouver's growing plant-based food industries that are helping to put our city on the map as the vegan capital of Canada and one of the most vegan-friendly cities in the world."