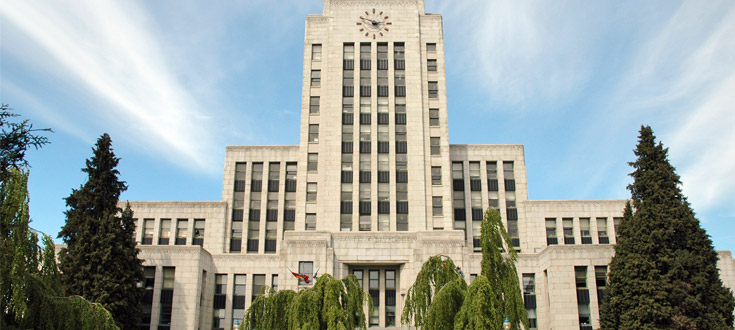 Events, decisions, and reports at City Council for the week of November 15
November 18 2021 –
Vancouver City Council met this week to hear and discuss a variety of topics during Council and Standing Committee on Policy and Strategic Priorities meetings.
Tuesday, November 16
This week's Council began with the approval on consent of the following communication, reports, and referral reports:
Council then received for information the presentation on Draft Metro 2050 Regional Growth Strategy Update by Jonathan Coté, Mayor, City of New Westminster, Jerry Dobrovolny, Commissioner and Chief Administrative Officer, Metro Vancouver, and Heather McNell, General Manager, Regional Planning and Housing Services, Metro Vancouver. (119 KB)
There was also an informational presentation on Transport 2050 by Geoff Cross, Vice President, Transportation Planning and Policy, TransLink and Andrew McCurran, Director Strategic Planning and Policy, TransLink. (2.3 MB)
Council postponed the following to the December 14 Council meeting at 3pm:
Streamlining rental around local shopping areas - amendments to the C-2, C 2B, C-2C and C-2C1 Zones and creation of new rental zones for use in future rezoning applications in surrounding low density areas under the secured rental policy (36 KB)
Council then approved the following report, by-laws, administrative motions, and Council members' motions:
The following Council Members' motions will be considered at the continuation of this meeting on December 14:
The motion Saving lives with community defibrillators and first aid was referred to the November 17 Standing Committee on Policy and Strategic Priorities to hear from speakers, debate, and decision. (86.8 KB)
On Tuesday evening, a public hearing was held where Council approved the CD-1 rezoning: 110 West 4th Avenue and the (119 KB)CD-1 rezoning: 150 West 4th Avenue . (129 KB)
The meeting will continue with the remaining agenda items below on Tuesday, November 23 at 6pm:
Wednesday, November 17
The Standing Committee on Policy and Strategic Priorities approved the following:
The Standing Policy Committee meeting concluded and was followed directly by a Council meeting where By-law 1 was approved and an urgent motion was brought forward and approved for Raising the Transgender Flag on November 20 to mark Transgender Day of Remembrance. (189 KB)
A public hearing will convene on Thursday, November 18 at 6pm for Council to consider the following agenda items:
The next regular meeting of Council is scheduled for Tuesday, December 7, at 9:30am.