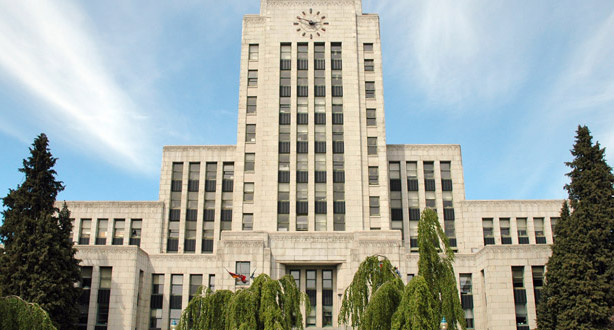 Events, decisions, and reports at City Council for the week of October 18, 2021
October 22 2021 –
Vancouver City Council met electronically this week to hear and discuss a variety of topics during Council and Standing Committee on Policy and Strategic Priorities meetings.
Tuesday, October 19
This week's Council meeting began at 9:30am with the reading of the proclamation for Waste Reduction Week. The communications item, Appointment of Council Liaison to the Transportation Advisory Committee ; and reports (122 KB)Mountain View Cemetery By-law Amendments and Fee Increases and (299 KB)2022 Exempt Seniors Housing were approved on consent. Also approved on consent were the following referral reports: (88 KB)
Following this, Council approved unfinished business, CD-1 Rezoning: 1157 Burrard Street , and (23 KB)Zoning and Development By-law Amendments to Allow Patios for Liquor Manufacturers . (17 KB)
Council then approved the reports on Quarterly Capital Budget Adjustments and Closeouts , (302 KB)Latecomer Policy , and (908 KB)Parking Fee Exemption for Vehicles Displaying Veteran or Memorial Cross Licence Plates . (52 KB)
Council then approved the following referral reports, by-laws, administrative motions, and Council member motions:
The Court of Revision (Local Improvements) was cancelled.
Thursday, October 21
The Standing Committee on Policy and Strategic Priorities began with a presentation for information only by Dr. Patricia Daly on The Overdoes Crisis and COVID-19 Updates . (4 MB)
At 1:04pm, Council reconvened in Committee thereafter, and heard the staff presentation, asked two rounds of questions to staff and heard up to speaker # 47 on The Future of False Creek South: Advancing a Conceptual Development Plan and Addressing Lease Expiries . At 9:58pm, Council recessed and will reconvene on October 26 at 3pm with speaker 48 of 171. (1 MB)
The next meeting is the Business Licence Hearing, scheduled for Tuesday, October 26, at 9:30am. Find agendas and meeting reports on council.vancouver.ca.
Quotes
Councillor Melissa DeGenova
"In 2019 I asked Council to give Veterans free year-round parking, said Councillor Melissa De Genova. "It's been a long road, and I appreciate Council's support to make this permanent. Complimentary parking in Vancouver is a small gesture of appreciation for the service and sacrifice of our Veterans and Memorial Cross families. It's a small way to say thanks to those who have given us all so much."