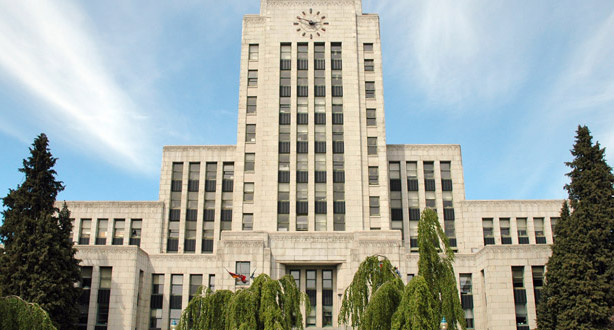 Events, decisions, and reports at City Council for the week of October 4, 2021
October 8 2021 –
Vancouver City Council met electronically this week to hear and discuss a variety of topics during Council, Public Hearing, and Standing Committee on Policy and Strategic Priorities meetings.
Tuesday, October 5
This week's Council meeting began at 9:30am with the completion of a communication on Changes to 2021 Council Meetings Schedule followed by (142 KB)Bylaws 1 to 6 . Council approved the amendment to Procedure By-law No.12577 which enables Council to meet electronically from October 19 onwards. There were three Notice of Motions and no New Business or Enquiries before adjournment. (3.6 MB)
At 11 am, a Special Council meeting convened, opening with a referral of a staff report to public hearing for Streamlining Rental Around Local Shopping Areas – Amendments to the C-2, C-2B, C-2C and C-2C1 Zones and Creation of New Rental Zones for Use in Future Rezoning Applications in Surrounding Low Density Areas Under the Secured Rental Policy which was referred to a subsequent public hearing for approval. (20 MB)
Council then approved the following motions:
Council extended the meeting past 5pm to complete the hearing of the staff presentation on item 5, Climate Emergency Parking Program.
At 5:12pm, Council recessed, to reconvene at 9:30am on October 6. The public hearing then began at 6:15pm where Council heard from the public and approved the following items:
Wednesday, October 6
The Council Meeting on City Finance and Services was cancelled.
Council reconvened the Special Council meeting at 9:30am and began with the Climate Emergency Parking Program where the motion was defeated with Councillors Bligh, De Genova, Dominato, Hardwick, Kirby-Yung, and Mayor Stewart voting in opposition. (3 MB)
Following this, Council approved the motions for Requests for Leaves of Absence and (12 KB)Member's Motion - Making SAFER More Helpful For Low Income Seniors , but ruled out of order for (27 KB)Member's Motion - Regarding the Future of False Creek South . (20 KB)
Thursday, October 7
Council reconvened on Thursday at 3pm and approved the Member's Motion - Saving Lives with the Community Led Compassion Club Model for Safer Tested Drugs (with amendments) and (13 MB)Member's Motion - Public Safety: Evaluating and Addressing Any Impacts of City of Vancouver Actions on Neighbourhood Safety (with amendments), but postponed the (59 KB)Member's Motion - Supporting Additional Transportation Options to Reduce Reliance on Vehicle Ownership to the first Council meeting in January, 2022. (54 KB)
The next Council meeting is scheduled for Tuesday, October 19, at 9:30am. Find agendas and meeting reports on council.vancouver.ca.
Quotes
Councilor Pete Fry
"A curbside management fee that reflects private use of public land is reasonable and entirely defensible," said Councilor Pete Fry. "We all pay for what we use, and that is fair. Those extra revenues could have bolstered our budget at a time when downloading onto local governments is stretching us incredibly thin, and especially on tackling climate change. Disappointed that my amendments to make the program more equitable did not pass, and that city-wide permit parking on the whole was rejected. Unfortunately while the vote against staff recommendations may kick the can further down the road on a pragmatic solution, climate change won't wait."