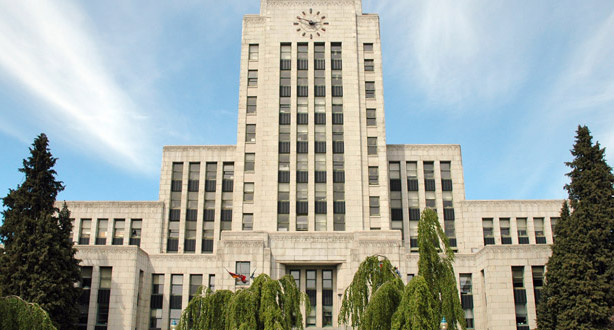 Events, decisions, and reports at City Council for the week of September 20, 2021
September 23 2021 –
Vancouver City Council met electronically this week to hear and discuss a variety of topics during Council, Public Hearing, and Standing Committee on Policy and Strategic Priorities meetings.
Tuesday, September 21
This week's Council meeting began with a staff presentation on Permitting Modernization Task Force - Update . (3 MB)
Council approved three communications memos and two reports including:
Several referral reports were also approved:
Of By-laws1 to 20 and (39 MB)By-law 21 , 1 to 5, 7, 9 to 19 and 21 were enacted. By-laws 8 and 20 were withdrawn. By-law 6 did not have enough eligible Council members to vote on this by-law, so it will be brought forward at the October 5 Council meeting. (9 MB)
The following administrative motions were also approved:
Council approved the motion Requests for Leaves of Absence . The motion (109 KB)Change to September Business Licence Hearing Panel was withdrawn, as the Business Licence Hearing on September 28 was cancelled. (7 KB)
The following motions were referred to the Standing Committee meeting on Wednesday, in order to hear from speakers, debate and decision:
On Tuesday evening, a Public Hearing was held. Council approved the following:
Due to time constraints, the Public Hearing will reconvene on Thursday, September 23, to hear from speakers and debate CD-1 Rezoning: 3449-3479 West 41st Avenue and 5664 Collingwood Street . (128 KB)
Wednesday, September 22
The Standing Committee on Policy and Strategic Priorities reviewed and approved:
Council then turned to motions referred from Tuesday's Council meeting. After hearing from speakers and debate, they approved Acting on the Climate Emergency by Opposing the Tilbury LNG Phase Two Expansion Project . (22 KB)
Council also approved the motion Establishing a Friendship City Program in the City of Vancouver , but referred the motion (134 KB)Effective and Equitable Staffing for Council back to staff to report on options to implement the direction in this motion, including Human Resources and budget implications of staffing for Councillors, using an equity lens. (122 KB)
A reconvening Public Hearing is scheduled for tonight (Thursday) at 6pm.
The next Council meeting is scheduled for Tuesday, October 5, at 9:30am. Find agendas and meeting reports on council.vancouver.ca.
Quotes
Councillor Christine Boyle
"There is absolutely no room to expand fossil fuel infrastructure," said Councillor Christine Boyle. "We have long run out of time to consider LNG a transition fuel. 20-30 years ago, a case could have been made for natural gas and LNG as a bridge fuel in the transition before us. That bridge was to now. We are in what scientists have declared a 'code red for humanity'. We can't expand fracking, we can't expand LNG, we can't build new fossil fuel infrastructure. Council made it clear that we are taking this code red seriously, by opposing the proposed expansion of the Tilbury LNG facility, and the enormous direct and upstream greenhouse gas emissions it would create."