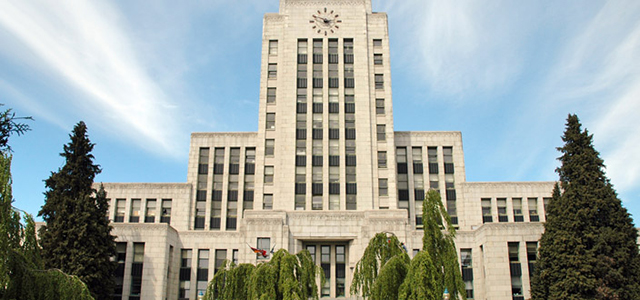 Events, decisions, and reports at City Council this week
April 1 2021 –
Vancouver City Council met electronically this week to hear and discuss a variety of topics during Council, and Standing Committee on City Finance and Services meetings.
Tuesday, March 30
This week's Council meeting began by approving the following reports:
Staff gave a presentation to Council on the (989 KB)2020 Statement of Financial Information . After asking staff questions and Council debate, this was unanimously approved with amendments. (3 MB)
Council then received presentation on (1 MB)One Time Exceptions to Liquor Primary Establishment Distancing and Moratoria and heard from two speakers. After debate, this was approved. 539 KB)
Next, Council heard from two speakers on Approval of 2021-22 Business Improvement Area (BIA) Budgets , debated and approved the report's recommendation. (2.5 MB)
Council also approved By-laws 1 to 14 and (1.5 MB)By-laws 15 to 23 . (6 MB)
Council referred the following motions to the Standing Committee meeting on Wednesday, March 31, to hear from speakers:
Council then considered a New Business item, Additional Emergency COVID-19 Measures, and approved this with amendments.
Wednesday, March 31
The Standing Committee on City Finance and Services meeting began with asking staff about Increasing Priority for Pedestrians in Vancouver's Winter Weather Protocol and Response . After hearing from one speaker, this was approved with an amendment. (379 KB)
Staff then gave a presentation on (300 KB)Report Back on Council Motion "Beyond 2010: Consideration for the City of Vancouver to Participate in a Future Olympic Winter Games Bid" . After debate, this was approved. (106 KB)
"Opening doors to opportunities for economic recovery after COVID19 is essential to supporting small businesses," said Councillor Melissa De Genova. "A future Olympic Games is one of the opportunities and I'm pleased with the decision of Council to thoughtfully leave this door open."
Councillor Pete Fry said, "It's clear from our staff report that given the context of pandemic and changes to Olympic bid framework there will be no consideration of a future event at this time. That said, it's important that in the event of any future consideration, we are including a comprehensive analysis with a critical eye to impacts evidenced or assumed on housing, affordability, environment and climate that resulted from 2010. A cost/benefit review was not articulated in this report, but council directed it needs to be included if any hypothetical future regional bid is ever contemplated."
The Annual Federation of Canadian Municipalities (FCM), Union of British Columbia Municipalities (UBCM) and Lower Mainland Local Government Association (LMLGA) Membership Fees for 2021 to 2022 was also approved. (57 KB)
Council then turned to motions referred from March 10, and approved Solidarity with Indian Farmers with amendments, and (42 KB)Understanding COVID-19 Recovery Through Economic and Cultural Stimulus Projects . (46 KB)
After hearing from two speakers, the motion Don't Feed the Wildlife was also approved. (26 KB)
"This week council recognized that we can appreciate wildlife without indulging opportunistic feeding," said Councillor Pete Fry. "Against a backdrop of increasing negative interactions with wildlife in the urban environment, and a voracious interest for social media documentation, we need to pivot education and enforcement to the prioritize the health and well-being of humans and wildlife alike."
Council then heard from speakers on motions referred from Tuesday's Council meeting.
Two speakers were heard on Increasing Public Access to Information about False Creek South , which was approved. (11 KB)
Two speakers were heard on Turning Construction Hoarding into a Canvas for Public Art in Vancouver and four speakers were heard on (92 KB)Calling for a Plan to Clear Vancouver's Permit and License Backlog and Revamp this Critical City Service . After debate, both of these motions were approved with amendments. (23 KB)
The next Public Hearing, reconvening from March 11, is scheduled for tonight (Thursday) at 6pm. Find agendas and meeting reports via council.vancouver.ca.