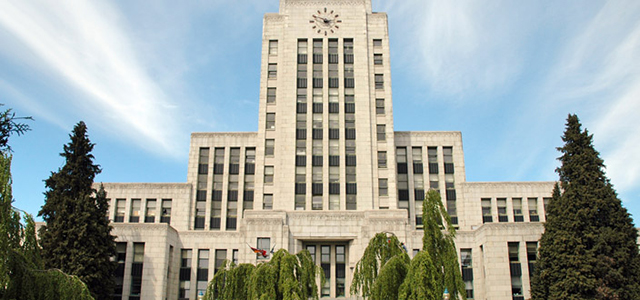 Events, decisions, and reports at City Council this week
April 15 2020 –
Vancouver City Council met electronically this week to hear and discuss a variety of topics during Council meeting.
Tuesday, April 14, 2020
Council asked questions of staff on the communications memo Changes to 2020 Council Meetings Schedule and approved this with amendments. (86 KB)
The memo 2020 LMLGA Submission Adjustments was referred to the Council meeting on April 28, 2020. (47 KB)
Staff presented to Council on the report COVID-19 Pandemic Impacts: Financial Update and Short-Term Actions . Council asked questions of staff and heard from one speaker. After debate, this was approved with amendments. (370 KB)
"Vancouver is facing a very serious budget shortfall," said Councillor Christine Boyle. "Over past decades local governments have seen cost and service downloads from senior levels of government, and local governments have stepped up, supporting vulnerable residents, supporting local arts and culture, taking the lead on climate action. Now local governments need help from the provincial and federal governments, in order to continue to provide critical public services, and be part of the economic stimulus that gets our communities back on our feet.
"As Vancouver makes difficult budget decisions, we need to be clear that support for low-income residents, for seniors, and for other vulnerable communities, are not luxury budget items. One of the key lessons from this crisis has been that our safety and well-being are only as strong as the most vulnerable among us. We cannot balance our city budget by cutting the services that those struggling most rely on most."
"It is time for council to show leadership and put forth an innovative plan on how we can create a post-COVID city that is more resilient and supports the wellbeing of all the people who live, work and play here," said Councillor Michael Wiebe. "We need to create a transparent framework for decision-making where the public and decision makers ask the difficult questions that disrupt established ways of thinking and where we boldly act on them."
"This week Council considered the COVID-19 Financial Update Report. Taxpayers need to hear that we have a plan and are taking action," said Councillor Sarah Kirby-Yung. "That's why I brought an amendment that staff bring forward options to Council as soon as possible that will enable the City to achieve a balanced 2020 Operating Budget in response to the reduced revenue coming in. It passed. We need to do a deep dive in our own house and bring solutions forward.
"If your businesses are losing revenue and shutting down, and your residents are losing jobs and income, it's unrealistic to expect that the City doesn't need to reduce our expenses. This is the crisis of a lifetime. The economic impact will be felt through 2020 and beyond and it will be significant. That means delivering a very different budget. The City needs to make some tough decisions and show residents we have a plan."
By-laws 1 to 9 were then reviewed, with By-laws 1-8 approved, and By-law 9 referred to the Council meeting on April 28, 2020. (9 MB)
Council then debated new business, a motion To Establish a COVID-19 Response and Recovery Working Group of Council, which was approved.
"Who could ever have imagined that this Council's term in office would be dominated by a global health pandemic affecting the basic economic, social and fiscal security and wellbeing of our city? While city staff have poured their efforts into responding to COVID-19 to avoid the worst outcomes, Councillors have been considering how they can help ensure that our city recovers in the best possible way," said Councillor Adriane Carr. "That resulted in a motion, moved by myself and seconded by Councillor Dominato, to establish the Pandemic Response and Recovery Working Group, a committee of the whole of Council, which was unanimously supported by Council at the end of a very long virtual Council meeting on April 14.
"The goal of the Working Group is to enable Councillors to seek, share and discuss information regarding pandemic response and recovery planning and provide recommendations for Council decision in regular Council meetings. The Chair of the Working Group will rotate amongst Councillors, meeting by meeting. Like many analysts are now saying, I don't believe there will be a return to the previous 'normal'. As decision-makers entrusted to act in the public's best interests, I believe it is up to Council to ensure that our city's recovery plan delivers a Vancouver that is even more livable and thriving, kinder and more resilient than before."
"Now is the time for Council to roll up our sleeves and work together to find the solutions for the people of Vancouver," said Councillor Michael Wiebe. "The public can be confident that their elected representatives have found an effective and efficient way to serve their interests in this time of need. I've been speaking with businesses across our city who urgently need solutions to make it through this crisis. I am grateful that we now have a mechanism through which Council can do the work needed to address the issues and all those affected by COVID-19."
The next Council meeting is scheduled for April 28, 2020 at 9:30 am.