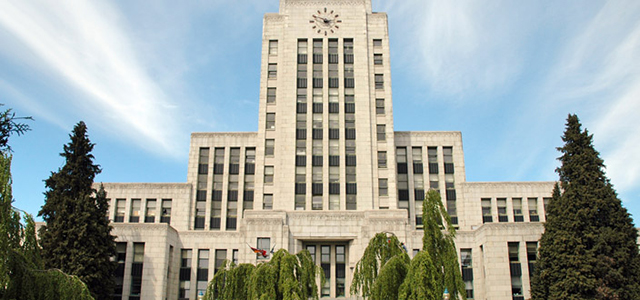 Events, decisions, and reports at City Council this week
April 15 2021 –
Vancouver City Council met electronically this week to hear and discuss a variety of topics during Council, Public Hearing, and Standing Committee on Policy and Strategic Priorities meetings.
Tuesday, April 13
This week's Council meeting began with approving one report and five referral reports:
VPL Board Chair Jennifer Chan gave a presentation to Council on the Vancouver Public Library Board 2020-2023 Strategic Plan. (2 MB)
Council then approved the following reports, by-laws and administrative motions:
Council referred the following motions to the Standing Committee on Policy and Strategic Priorities meeting on Wednesday, April 14, to hear from speakers:
Next, Council approved Enhancing Organizational Governance and Development , as well as an urgent new motion, Prioritizing Vancouver Firefighters and Police First Responders for COVID Vaccines. (21 KB)
"On Tuesday, Council unanimously supported my urgent motion to get the provincial government to immediately prioritize COVID immunization for Vancouver's firefighters and police first responders, especially those in the high risk downtown eastside," said Councillor Adriane Carr. "First responders put their lives on the line every day for public safety. It's unconscionable that they haven't already been prioritized for vaccines. I sure hope government doesn't delay even one more day!"
On Tuesday evening, the Pubic Hearing began with Council approving Miscellaneous Amendments to Various CD-1 By-laws . (109 KB)
After presentations from staff, applicants, and hearing from members of the public, Council approved the following without changes:
Wednesday, April 14
The Standing Committee on Policy and Strategic Priorities meeting began with a staff report on (317 KB)Funding Application to BC Community Emergency Preparedness Fund - Flood Planning , which was adopted. (317 KB)
Staff then gave a presentation on (1.3 MB)Grant to Enable Seismic Assessments of Existing Rental Buildings . This was subsequently approved with amendments. (425 KB)
Council also dealt with two motions referred from Tuesday's Council meeting.
After hearing from eight speakers on Preserving Bus Ridership During COVID and Beyond and debate, this was approved with amendments. (9.5 MB)
"I'm glad that Council agreed with my motion to tell TransLink that we want more consultation before bus stops are removed and that we don't want the transit fare hikes scheduled for July," said Councillor Jean Swanson. "We need to make transit cheap and convenient so riders will come back to it when it's safe."
Next, Council heard from two speakers on Joint Vancouver City Council - Vancouver School Board Committee to Collaborate on Capital Projects ). After consideration, this was approved with an amendment. (11 KB
"City Council often hears concerns from residents at public hearings about why we are considering adding family housing in areas where schools are already at capacity," said Councillor Adriane Carr. "There are also schools that are under-capacity and a growing need for before-and-after school childcare and other public amenities, like community gardens, that could be considered for school sites. Currently Council does not confer with the School Board. I'm pleased Council voted unanimously for my motion to establish a joint School Board-City Council committee to collaborate on VSB capital projects."
The next Public Hearing is scheduled for Thursday, April 15, at 6pm. Find agendas and meeting reports on council.vancouver.ca.