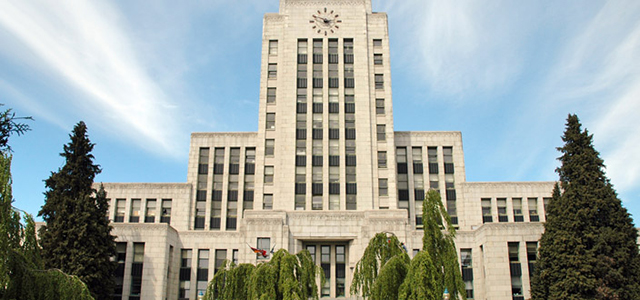 Events, decisions, and reports at City Council this week
April 29 2021 –
Vancouver City Council met electronically this week to hear and discuss a variety of topics during Council and Standing Committee on City Finances and Services meetings.
Tuesday, April 27
This week's Council meeting began with approving two communications and three reports:
Staff then gave a presentation on (5.3 MB) One Year In: City of Vancouver Contributions to Covid-19 Recovery and Council Covid-19 Recovery Committee (CCRC) Report Back to Council . After asking questions of staff, this was approved with amendments. (544 KB)
"Everyone keen to know what the City of Vancouver has been doing about COVID-19 recovery should read the staff report tabled at Council on Tuesday," said Councillor Adriane Carr. "It's loaded with details on everything from reallocation of street space for peoples' recreation and restaurant patios, to advocacy with senior governments that garnered more money than I've ever seen before for affordable housing. As the Councillor who tabled the motion to create the CCRC, I am very happy to see such thorough reporting on how staff have followed up on the 124 recommendations arising from the CCRC's final report, and proud of their work to both respond to the pandemic and build back better."
Council then approved the following by-laws, motions and new business items:
"My emergency motion tabled at Council this week to endorse the Help Cities Lead campaign received unanimous support," said Councillor Adriane Carr. "This puts Vancouver in league with other Metro Vancouver municipalities like North Vancouver, West Vancouver, Port Moody, Langley and Maple Ridge as well as cities like Victoria to jointly put pressure on the B.C. Government to give municipal governments more tools to ramp up their work to address the climate emergency. The campaign focuses specifically on tools to regulate GHG emissions from both new and existing buildings and provide Property Assessed lean Energy (PACE) financing to help property owners finance energy efficiency upgrades."
Wednesday, April 28
The Standing Committee on City Finance and Services meeting began with Council approving Consultant for Granville Bridge Interim Design and North Loops Reconfiguration . (52 KB)
Staff then gave a presentation on (730 KB)Decriminalizing Poverty and Supporting Community Led Safety Initiatives" Process Update and Recommendation . After hearing from five speakers, this was approved with amendments. (385 KB)
"This week Council moved further in the direction of decriminalizing poverty and supporting community-led alternatives to policing," said Councillor Christine Boyle. "The Community Panel tasked with shaping this work will include important community voices, and will bring a strong intersectional lens to future decisions around public and community safety in Vancouver. There is still hard work ahead, and I'm glad to see this Council continue to commit to doing that work."
Council also dealt with two motions referred from Tuesday's Council meeting.
After hearing from seven speakers on Affirming Support for a Formula E World Championship Event including a Conference focusing on Climate Change and Sustainability, Musical and Cultural Event and the Canadian Round of an Electric Vehicle Race . After debate, this was approved. (19 KB)
"I'm thrilled Council supported this motion and saw the opportunity for Vancouver to grab hold of being the host city for the Canadian round of a Summer 2022 Formula E event," said Councillor Sarah Kirby-Yung.
"This multi-pronged event brings hope to our hobbled tourism and hospitality sector that is on its knees with the impact of Covid-19, supports our economic recovery and building back better by welcoming green events, and brings some much-needed fun and something to look forward to for people. It's more than just a race.
"It's a net-zero emission event, certified by the UN. Demonstrating electrified transportation and raising interest and awareness through the race, as well dialogue with leading experts from the electrification space through the conference as Vancouver works towards sustainable transportation, will have a lot of benefits for the city. It's win, win, win."
Council then heard from two speakers then approved Incorporating a Bike Safety Index into Urban and Active Transportation Planning . (44 KB)
The next Council meeting is scheduled for Tuesday, May 18, at 9:30am. Find agendas and meeting reports on council.vancouver.ca.