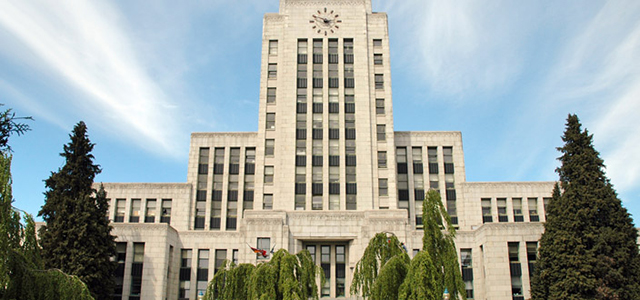 Events, decisions, and reports at City Council this week
February 12 2021 –
Vancouver City Council met electronically this week to hear and discuss a variety of topics during Council, Public Hearing, and Standing Committee on City Finance and Services meetings.
Tuesday, February 9
Council began with questions to staff on License for Covered Electrical Cords for Electric Vehicle Charging – Climate Emergency , followed by 2 speakers. This was approved with amendments. (145 KB)
Next up was consideration of Staff report on East Fraser Lands Official Development Plan and Public Amenity Financial Plan and Strategy: 10-year Review and Update . Following questions to Staff, this was approved for referral to Public Hearing. (11 MB)
Council then approved a referral to Public Hearing on Staff report on Extension of the Rental Housing Stock Official Development Plan to Require Rental Replacement in C-2, C-2B, C-2C, and C-2C1 Commercial Districts . (2 MB)
After reconvening at 3:00 pm, Council approved referral to Public Hearing of an amended motion on agenda item RR8 - Amendment to Downtown Official Development Plan – Area K3 (Granville Street) . (2 MB)
After approving by-laws 1 through 23, the following Administrative and Member Motions were also approved:
Council also approved several reports and referral reports:
In order to hear from speakers, the following items were referred to the Standing Committee on Policy and Strategic Priorities meeting on February 10:
Council then dealt with new business and enquiries, and notice of Council Members' Motions before adjourning.
A Public Hearing meeting was held on Tuesday evening where the following items were approved without changes following presentations from Staff, the applicants and hearing from members of the public:
Wednesday, February 10
The Standing Committee on Policy and Strategic Priorities began with Council holding a moment of silence for missing and murdered indigenous women and girls.
Council then approved the following reports on consent:
After hearing from two speakers, Council also approved a motion on Street Naming – Naming of New Streets and Street Extensions in the New St. Paul's Hospital and Pearson Dogwood Developments . (326 KB)
After hearing from one speaker on each item, Council also approved amended motions on Ensuring That People with Health and Mobility Issues Have Protection and Support When Elevators Break Down , (103 KB)Improving Street Lighting in Vancouver , and (141 KB)Turning the Key: Encouraging Affordable Home Ownership in the City of Vancouver . (88 KB)
Council then moved on to items referred from the February 10 Council Meeting, and began by hearing from speakers on a motion Protecting Tenants from Real Estate Investment Trusts . Following debate by Council, this item was approved with an amendment. (45 KB)
Next up was a motion Daylighting Building Permit Wait Times , which Council approved. (45 KB)
After hearing from speakers on a motion UBCM Resolution: Updating BC's Wrongful Death Law , Council approved the item following debate and discussion. (49 KB)
Council also approved motions Local Elections – Review and Reform, and Understanding COVID-19 Recovery through Housing Construction with amendments, after hearing from speakers on the topics. (44 KB)
Council then began hearing from speakers on motion Aligning the Cannabis License Fee Structure to Support Vancouver Businesses before recessing. The meeting will reconvene on February 18, at 3 pm to continue hearing speakers on the remaining motions followed by debate and decision. (25 KB)
At the Public Hearing on Wednesday evening, Council approved a motion on agenda item 1– CD-1 Rezoning: 1766 Frances Street after hearing from over 18 speakers and asking questions of the applicant and Staff. (62 KB)
Council then began considering CD-1 Rezoning: 1015 East Hastings Street by hearing a Staff (72 KB)presentation before recessing. The Public Hearing will reconvene at approximately 6 pm on Tuesday, February 16th beginning with applicant opening comments. (2 MB)
Find agendas and meeting reports via council.vancouver.ca.
Quotes
Councillor Pete Fry
Regarding: 1776 Frances Street
"Very excited to usher in the unanimously approved 84 units of social housing for Indigenous people. Beautiful architecture, green building, passive house technology, steeped in culturally respectful design and amenities, and great neighbourhood fit. What a wonderful asset and addition for Grandview Woodlands and the families that will enjoy this space."
Regarding: Electoral Reform motion
"Grateful for council support for my resolution to look at a suite of electoral reforms including increasing engagement and civic literacy as we examine and prioritize ways to improve democratic representation. I'm especially excited for the advancement of new tools to address new sophisticated digital marketing and communications tools that are increasingly influencing elections in democracies world over and right here in local government, and improving transparency around political donations and public interest."
Regarding: Wrongful Death motion
"Humbled by the voices of British Columbians who have experienced the wrongful death of loved ones and are seeking justice. Hopefully the unanimous support of our council and resolve to champion this issue at UBCM will inspire and encourage the provincial government to join the rest of Canada in updating our wrongful death legislation and in particular the Family Compensation Act in BC."
Councillor Sarah Kirby-Yung
Regarding: Daylighting Building Permit Wait Times Motion
"The impact of delays and/or permit processing times that are longer than expected causes a range of financial hardships particularly for small businesses, like having to carry extra months of lease costs without any revenue, delaying projected timelines for opening to the paying public, and generally impacting the financial well-being and sustainability of a business.

That's why I'm glad Council passed my motion to post easy to-access information on the City's website that will show current projected wait times for various building permit types in as close to real-time as possible. This will help small businesses planning to make improvements and/or changes to their premises (where a permit is required), or people planning to open a new business that would require permits, have greater clarity and ability to plan.

Speeding up permit timelines is critically important. But so is making clear, transparent information available. Businesses need to know how long permits usually take, as well as how long they are actually taking at any given time."