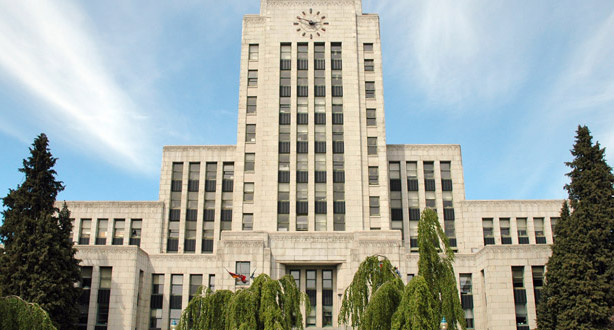 Events, decisions, and reports at City Council this week
June 25 2020 –
Vancouver City Council met electronically this week to hear and discuss a variety of topics during Council, Public Hearing, Standing Committee on Policy and Strategic Priorities, and Special Council meetings.
Tuesday, June 23, 2020
Council received a Mayor's Overdose Task Force Update via a presentation from Dr. Patricia Daly, Chief Medical Health Officer, Vancouver Coastal Health, and a (519 KB)City staff presentation . (1.5 MB)
Several reports, referral reports, by-laws, and administrative motions were approved:
The following motions were then considered and approved:
The following motions were referred to the Standing Committee meeting on Wednesday, in order to hear from speakers:
The motion Exploring a Pilot for Beverages in Public Spaces in Vancouver was withdrawn. (61 KB)
On Tuesday evening, a Public Hearing was held.
After hearing from staff and speakers, the following items were approved:
Wednesday, June 24, 2020
The Standing Committee on Policy and Strategic Priorities meeting began by approving the Funding Application to BC Community Emergency Preparedness Fund – Flood Risk Assessment, Flood Mapping and Flood Mitigation Planning . (54 KB)
Council received a Presentation: Vancouver Plan Update – Focus on Recovery and Long-term Community Resilience from City staff. (2 MB)
Speakers were then heard for the following motions referred from Tuesday's Council meeting, which were then approved:
The motion Community-based Crisis Management Through Understanding and De-escalation was referred to a Council meeting after the Provincial Review of Police Act Terms of Reference have been established and made public. (253 KB)
The next Public Hearing meeting is scheduled for Thursday, June 25, at 6pm.
Quotes
Councillor Jean Swanson
Regarding developing an #AllOnBoard and #RaiseARider pilot
"I'm really happy council passed my #AllOnBoard and #RaiseARider motion calling for a staff report on a pilot program of free transit for youth and a discounted or free pass for low income people. Many other cities in the world are doing this now. It would be a good way to put teeth in the city's equity goals and I hope we can move forward on it soon."
Regarding a call for race-based and socio-demographic data in BC
"I'm also glad that council passed Christine Boyle and my motion for collecting race-based and socio-demographic data in BC. Thanks to Amal Rana, Shilla Avissa, and Councillor Boyle, and the city's Ethno-Cultural Committee for all their awesome work on this."