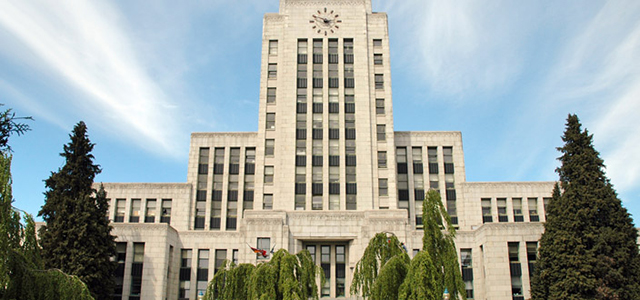 Events, decisions, and reports at City Council this week
March 11 2021 –
Vancouver City Council met electronically this week to hear and discuss a variety of topics during Council, Public Hearing, and Standing Committee on Policy and Strategic Priorities meetings.
Tuesday, March 9
This week's Council meeting began with Council approving a number of reports and referral reports:
Staff gave a presentation to Council on (1.5 MB)2021 Property Taxation – Targeted Land Assessment Averaging . After asking staff questions and debate, Council approved the recommendations with amendments. (1 MB)
Council also approved the following report, referral reports, by-laws, and administrative motions:
By-law 6, a by-law to amend Street Name By-law No. 4054 regarding the naming of a new street in the new St. Paul's Hospital Development (Nora Hendrix Way), was referred back to staff.
Council then approved the motion UBCM Resolution – Local Choice: Tools to Improve Representation in Local Government Elections . (24 KB)
Remaining motions on the agenda were referred to the Standing Committee meeting on Wednesday, in order to hear from speakers.
Council then dealt with a new item on the agenda, "Opening Up – Enabling Readiness for Post Pandemic Arts, Events, Hospitality & Tourism", and approved this.
A Public Hearing was held on Tuesday evening, with Council making the following decisions:
Wednesday, March 10
The Standing Committee on Policy and Strategic Priorities meeting began with approval of 1566 Commercial Drive – 1174278 BC Ltd ("Bar Corso") - Liquor Primary Liquor Licence Application - Liquor Establishment Class 1 (441 KB).
City staff then presented on the (2.5 MB)Women's Equity Strategy Updates and Next Steps . After asking staff questions, hearing from three speakers, and Council debate, the report's recommendations were approved with an amendment. (263 KB)
The Issues Report: Consideration of Rezoning Proposals at 110 and 150 West 4th Avenue and, after hearing from six speakers, the (431 KB)Approval of Business Improvement Area Renewals and Expansion 2021 were also approved. (1.5 MB)
Council then turned to motions referred from the previous day's Council meeting.
After hearing from 11 registered speakers, the motion Implementing the UN Declaration on the Rights of Indigenous Peoples in the City of Vancouver was unanimously approved. (54 KB)
Next, Council heard from four registered speakers on the motion Solidarity with Indian Farmers to the Standing Committee , and debated. Due to time constraints, the decision was deferred to the Standing Committee on City Finance and Services meeting on Wednesday, March 31. (109 KB)
The remaining motions, Understanding COVID-19 Recovery Through Economic and Cultural Stimulus Projects and (176 KB)Don't Feed the Wildlife , were also referred to the Standing Committee meeting on March 31. (25 KB)
The next Public Hearing is scheduled for Thursday, March 11, at 6pm. Find agendas and meeting reports on council.vancouver.ca.