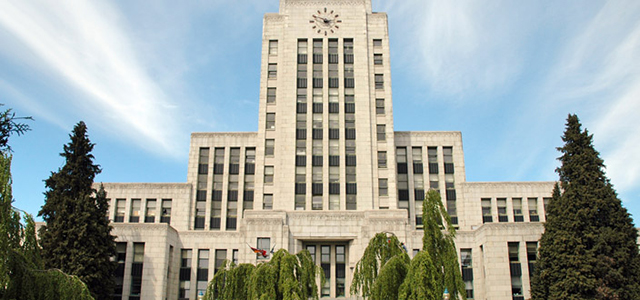 Events, decisions, and reports at City Council this week
October 25 2019 –
Vancouver City Council met this week to hear and deliberate a variety of topics during regular Council, Public Hearing, and Policy and Strategic Priorities meetings.
Tuesday, October 22, 2019
Council began with a staff presentation on the Housing Infrastructure Grant Framework Update (476 KB)report . This was approved after questions and debate from Council. (121 KB)
City staff then gave a presentation on the Broadway Plan – Phase 1 Engagement and Proposed Guiding Principles. After three public speakers and debate the (5 MB)report was approved with amendments. (23 MB)
Council approved several Communications and Administrative Reports:
Council approved several by-laws:
Council approved the following Administrative Motions:
On Tuesday evening a Public Hearing was held and the following applications were approved unanimously:
Council then received presentations from staff and the applicant team , asked questions, received correspondence, and heard from 14 speakers on (5.3 MB)REZONING: 1002 Station Street and 250-310 Prior Street (New St. Paul's Hospital and Health Campus) . This application was then referred to the Regular Council meeting on November 5, 2019, as Unfinished Business. (68 KB)
Wednesday, October 23, 2019
On Wednesday a Policy and Strategic Priorities meeting was held.
Council Motions:
Thursday, October 24, 2019
On Thursday evening the Policy and Strategic Priorities meeting was continued.
Council Motions:
Council will reconvene at the next regular scheduled meeting on Tuesday, November 5, 2019 at 9:30am.