Print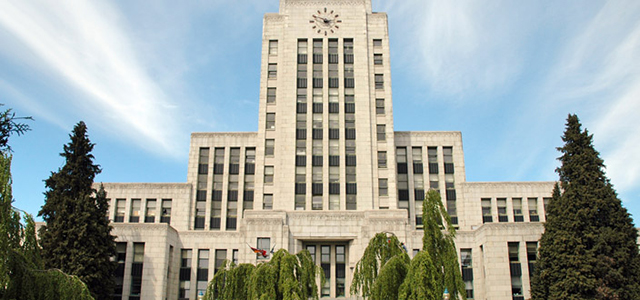 Events, decisions, and reports at City Council this week
October 4 2019 –
Vancouver City Council met this week to hear and deliberate a variety of topics during regular Council, Public Hearing, and City Finance and Services meetings.
Tuesday, October 1, 2019
Council began with a staff presentation on the False Creek Flats Arterial Grade Separation (14 MB)report After hearing from 26 speakers, a final decision was referred to the Standing Committee on City Finance and Services meeting on Wednesday, October 2. (23 MB).
Council approved several Administrative and Policy Reports
Council approved several by-laws
Council approved the following Administrative Motions
Council Motions
Councillor Swanson's motion Emergency Action to Support Vancouver's Homeless People, Including Those in Oppenheimer Park was ruled out of order. (86 KB)
Councillor Hardwick's motion Increasing Affordable Housing Options Through Character House Incentives in RS Zones was withdrawn. (41 KB)
Councillor De Genova's motion the Reimbursement of Councillor's Legal Costs for Code of Conduct Complaints Where Vancouver City Council Member is Not at Fault was approved. (51 KB)
On Tuesday evening a Public Hearing was held, the following were approved after Council heard from several speakers and received correspondence.
Wednesday, October 2, 2019
Council received a report from staff and heard from 11 speakers on (1 MB)Adapting to Provincial Legislative Changes Relate to Passenger Directed Vehicles before approving it, with amendments. (317 KB)
Council then referred the motion Establishing an Independent Auditor General Office for the City of Vancouver to the next Standing Committee on Policy and Strategic Priorities meeting on October 23. (149 KB)
Council approved the Contract Award for Supply and Delivery of Mineral Aggregates on consent. (49 KB)
Council approved the Contract Award for Towing Services on consent. (50 KB)
Council approved 2020 Exempt Seniors Housing on consent. (1 MB)
Council also approved the False Creek Flats Arterial Grade Separation , with amendments. This item was referred from the October 1 meeting, where Council heard from staff and 26 speakers. (23 MB)
After 8 speakers Council approved Councillor Boyle's motion Improving Transportation Safety Around Vancouver Schools with amendments. (24 KB)
Council also approved Councillor Kirby-Yung's motion Back to Basics: Prioritizing Public Realm Maintenance and Cleanliness in Vancouver with amendments. (28 KB)
Council approved Councillor Dominato's motion Expediting an Elementary School for the Olympic Village Community – the City's Role with amendments. (29 KB)
Council then began to hear from 28 people registered to speak to A Collaborative and New Approach to Oppenheimer Park and Other Public Spaces , a motion submitted by both Councillors Dominato and Wiebe. A total of 15 people spoke, when the meeting was cancelled due to a loss in quorum. (15 KB)
Council will reconvene at the next regular scheduled meeting on October 22, 2019.
Quotes
Councillor Christine Boyle
"The climate emergency needs to inform every decision that we as governments make. This week Council voted to calm and reduce traffic on Prior Street, and to implement a congestion charge in the city core for future ride hailing services. These two transportation decisions are in line with Vancouver's Climate Emergency Response Plan, and reflect Council's clear commitment to climate action.
We can no longer prioritize private vehicles over public and active transportation, build new arterial roads, or add additional cars to our streets. The climate and health risks are too high, for us and our children. The climate emergency can and should continue to inform all of our decisions, from transportation, to housing, equity, waste, and budgeting."
Councillor Pete Fry
"I'm feeling great about council's direction to formally downgrade Prior Street, with accommodations for an alternate truck route and 30k speed limit at the park. These are real and overdue victories in a decades-long battle to calm the ersatz arterial created by the viaducts and dumped on an otherwise local serving street. Additional direction to expand active transportation options, and a contiguous greenspace by exploring the decommissioning of Hawks and opportunities presented in the upcoming St Paul's hospital rezoning.
After ten years of fighting to calm Prior, this is a personal victory for me and my neighbours – but also the city at large. Reflecting on our climate emergency, staff and council have thoughtfully included recommendations to mitigate air pollution and enhance livability that can serve as a blueprint for the sort of city we want. That any future underpass will be paid for by the rail corridor expansion means further opportunities to re-invest in the area including some of our aging community infrastructure and enhanced public realm."