Print
Events decisions and reports at Council this week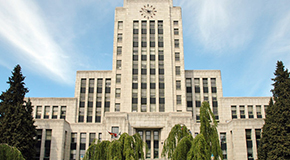 June 13 2019 –
This week City Council received updates on several key issues impacting Vancouver including renter protections, affordable housing and homelessness.
Tuesday, June 11
Staff presented to Council and (4 MB)submitted a report recommending actions to increase renter protections and amendments to the tenant relocation and protection policy. After hearing from several speakers, Council unanimously approved the report. (1 MB)
Council also approved several administrative reports and policy reports on consent, they were:
Text Amendment: 650 West 41st Avenue (Oakridge Centre) was removed from the agenda. (860 KB)
Administrative Report 5 Designation of Vancouver Affordable Housing Agency as Agent of the City to Develop City Land Assets 2031 and 2037 Stainsbury Avenue was referred to the regular Council meeting following standing committee, which will be reconvening next Wednesday. (175 KB)
The following by-laws were also approved:
A Public Hearing took place in the evening and six agenda items were approved with no changes:
After hearing from a number of speakers regarding the rezoning of 4575 Granville Street , Council recessed and will reconvene at 6pm on Thursday, June 13 to hear from further speakers. (25 KB)
Wednesday, June 12
Following a presentation by staff and hearing from speakers regarding the Report Back on a Renter's Office the previous day, Council approved the (4 MB)administrative report as amended. (823 KB)
Staff provided Council with a Homelessness Update including a report and presentation on the 2019 Homeless Count and rapid response to homelessness through (169 KB)partnerships , as well as a report about 2019 (9 MB)Homelessness Action Week and supportive housing grants, and grant to Metro Vancouver Aboriginal Executive Council (169 KB) which council approved unanimously.
Council also approved the following staff reports:
The motion Supporting the Call for Changing the Cheque Day was also approved by Council. (19 KB)
Finally, recommendation A for the motion Protecting Rental Housing Stock along Arterial Streets failed while recommendation B was approved. (17 KB)
The following items were referred to the Standing Committee on Policy and Strategic Priorities on Wednesday, June 19, starting at 3pm with item 6 – Reducing Truck Pollution in Clark-Knight Corridor and Other City Streets : (47 KB)