Help us identify Flats questions, challenges, and opportunities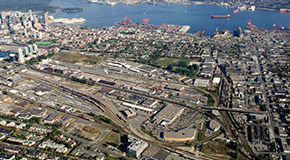 False Creek Flats planning workshop: Creating great places – natural systems, amenities, and the public realm
This is the sixth in a series of six introductory workshops designed to help frame the conversations in the False Creek Flats planning process. These workshops will help identify the big questions that we need to address for a successful plan, as well as begin to brainstorm potential solutions to the challenges and opportunities in the area.
Date and time
June 24 2015, 5:30 p.m. to 8:00 p.m.
Location
National Works Yard, 701 National Avenue
Vancouver
Contact
Workshop theme
The image of the False Creek Flats continues to be defined by a combination of the areas unique geography, industrial development, and the presence and barrier of rail.
For many people in Vancouver, the Flats represent a 450-acre hole in their mental map, largely devoid of the amenities and public places available in other areas of our city. Yet despite this, a number of unique places, interesting spaces, historic materials and buildings contain tremendous potential to develop the Flats into a celebrated component of the public life of our city.
This plan could leverage these unique features, to establish the places and spaces required to support a thriving economic district.
How do we define and deliver unique public places and spaces that build off these distinctive features and connect to the vast network of parks and public spaces that surround the False Creek Flats?
What places or amenities are needed in order for the area to achieve its economic potential?
Sign up to attend