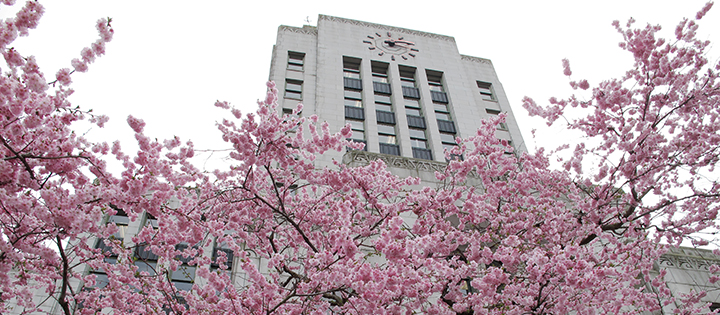 Federal funding creates additional warm, safe homes in Vancouver
Today's announcement is another shining example of what happens when the Federal Government teams up directly with cities like Vancouver to help people who need it most.
Mayor Kennedy Stewart
April 16 2021 –
With the support of the federal government's Rapid Housing Initiative (RHI) program, we have purchased a property at 205 Kingsway that will provide approximately 68 homes for people experiencing or at risk of homelessness.
The building is the second hotel that the City has purchased using $51.5 million of funding provided by the Government of Canada. We also took ownership of a property at 2075 Kingsway in February and this will provide approximately 65 homes.
About the latest supportive housing efforts
Both this property and 2075 Kingsway will be managed by experienced and professional non-profit operators. The Province will support the new housing with annual operating funding over 20 years.
Supportive homes like the two Kingsway properties help people move inside and access the necessities of life such as food, washrooms and laundry, as well as connections to vital services.
Both of the purchased properties require renovations. It is anticipated that people will be able to move into 205 Kingsway in the summer and 2075 Kingsway will open to tenants in the winter.
Properties latest steps to address critical needs
These properties are the latest step that the City, Province, and Federal government is taking to address the critical needs of people experiencing homelessness in Vancouver.
Including the two Kingsway properties, the hotel purchases recently announced by the federal and provincial governments, and the new temporary shelter spaces that are under construction, there will be close to 450 new supportive homes and indoor spaces opening this year.
The City and BC Housing have also committed to build 350 permanent supportive units to provide long-term homes for people in the coming years, in addition to the nearly 1,000 supportive homes opened in Vancouver over the last three years.
To find out more about these projects and other supportive housing initiatives, visit vancouver.ca/supportive-housing.
Quotes
Ahmed Hussen, Minister of Families, Children, and Social Development, and Minister responsible for Canada Mortgage and Housing Corporation (CMHC)
"Our Government wants to ensure that every Canadian has a safe and affordable place to call home. Investments with the City of Vancouver under the Rapid Housing Initiative's Major Cities Stream will go a long way to effectively support those who need it most by quickly providing new affordable homes to vulnerable individuals and families to keep them safe", said The Honourable Ahmed Hussen, Minister of Families, Children and Social Development and Minister responsible for Canada Mortgage and Housing Corporation (CMHC). "The purchase of this property will rapidly create housing for those that need it most across the city. This is the National Housing Strategy at work!"
David Eby, Attorney General and Minister Responsible for Housing
"We know there's an urgent need to deliver homes with supports for people experiencing homelessness in Vancouver," said David Eby, Attorney General and Minister Responsible for Housing. "Homelessness is a crisis, and housing is the solution. It is a pleasure to work with multiple levels of government in finding solutions to get people inside and supported with the urgency this crisis deserves."
Mayor Kennedy Stewart
"Today's announcement is another shining example of what happens when the Federal Government teams up directly with cities like Vancouver to help people who need it most," said Mayor Kennedy Stewart. "But housing alone is never enough, and that's why I am also grateful for the ongoing support of the Province of British Columbia in funding the critical supports and services that help put our neighbours on a pathway of health and hope. Breaking the cycle of homelessness can be done; it just takes partnerships like these."