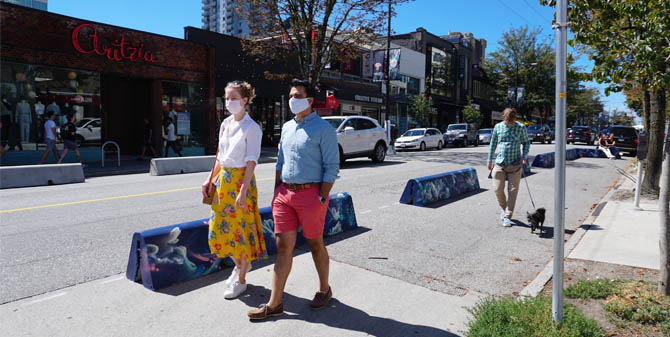 Final week for feedback on City's COVID-19 public space initiatives
October 26 2020 –
Throughout the summer and fall, we have been seeking feedback from residents and businesses about the new public space initiatives that were launched in response to COVID-19. A number of our surveys close on October 30, and we are encouraging everyone who hasn't done so already to share their input.
COVID-19 has dramatically shifted the needs of residents and businesses when it comes to public space. Via 40 kilometres of Slow Streets, 10 pop-up plazas, a sidewalk widening pilot project on Robson St, and other initiatives such as the temporary patio program and new parklets, we have reimagined the use of road space to create more room for physical distancing, and support community life and local business recovery efforts during the pandemic.
Review a summary of our public space initiatives
Share your input – All surveys close this Friday, October 30
Pop-up Plazas
Creates accessible space for people to eat, visit, rest, and enjoy while maintaining a safe distance from each other.
Take the pop-up plaza survey now
Robson St Sidewalk Widening and Plaza Pilot
Provides more room for people to move, sit, wait for transit, and access local businesses between Burrard and Jervis St.
Take the Robson Street survey now
Slow Streets
These designated streets provide opportunities for walking, cycling, and rolling and make it easier for people to exercise and access businesses in their neighbourhoods.
Take the general Slow Streets survey now
How your feedback will help
Your feedback will help us to shape and improve these measures as we continue to advance our programs in response to COVID-19 and beyond.