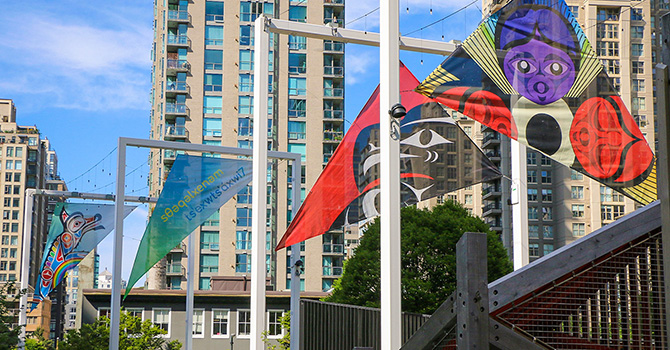 First city park gifted name in both local languages: sθәqәlxenәm ts'exwts'áxwi7
We are honoured for this dynamic new park to be gifted a beautiful name and for the role it will play in decolonizing the park system.
Chief Jen Thomas of Tsleil-Waututh Nation
June 17 2022 –
Today the new park at Smithe and Richards, on the unceded territories of Musqueam, Squamish, and Tsleil-Waututh Nations, has become the first Vancouver park to be gifted a name in both the hən̓q̓əmin̓əm̓ and Sḵwx̱wú7mesh languages.
sθәqәlxenәm ts'exwts'áxwi7, meaning 'rainbow', was chosen by the Nations because the land where the park now sits was once forested with large trees and had many sources of water, including a marsh where the sun and mist would form rainbows. The name also reflects the bridging of the diverse people and communities the park brings together, and is a nod to the vibrant LGBTQIA2S+ history of the area.
This is a significant moment for Vancouver. In returning the language to the land in such a prominent public space, residents and visitors will be reminded of the depths of Musqueam, Squamish, and Tsleil-Waututh's cultural continuity and connection to the land.
Formally gifted through a cultural naming ceremony, the name builds upon a history of Park Board work to see reconciliation realized across the city. Since the Truth and Reconciliation Commission Report was published in 2015, the
The Park Board has actively worked to address some of the impacts of colonization that it has jurisdiction over. Supporting hən̓q̓əmin̓əm̓ and Sḵwx̱wú7mesh to once again be heard and seen throughout these lands and waters is a powerful tool for reconciliation and affirming the rights of the host Nations while advancing the Park Board's commitment to decolonization.
Cultural initiatives and programs
To honour the gift and celebrate the importance of this work, the Park Board has developed a series of cultural initiatives and programs, including:
Public art program
The inaugural installation is a series of striking artworks by Kitty Guerin of Musqueam Indian Band, Ray Natraoro of Squamish Nation, and Candace Thomas of Tsleil-Waututh Nation displayed on the park's towering skyframes. Each a representation of sθәqәlxenәm ts'exwts'áxwi7, these beautiful works of art welcome visitors to the park and celebrate the local host Nations' cultures.
Indigenous planting
In consultation with Indigenous traditional ecological knowledge holders, the park has been planted with many native plants that are significant to the host Nations' culture, food, and medicine.
Playground leader program
Starting this summer, a new playground leader program will offer free drop-in arts, cultural and recreational programs for children, youth, and their families that celebrate and honour the cultures of Musqueam, Squamish, and Tsleil-Waututh.
Learn more about the park naming process and what's happening in the park Watch this video for more about the story of the name and a pronunciation guide
Quotes
Musqueam Elder and Interim Manager of Language and Culture, Larry Grant
Musqueam Elder and Interim Manager of Language and Culture, Larry Grant, reflected on the meaning of rainbow as "two places joined together after the rain, when the earth has been cleansed and everyone's thoughts are cleared."
"The rainbow is about sharing and being together, and because of the colours that it brings together, the whole concept of that neighbourhood in the sense of its diversity of people from all the different ethnic groups. The rainbow is a bridge: a vision that comes and goes but also brings us all together."
Chief Wayne Sparrow of Musqueam Indian Band
"The importance of gifting the hən̓q̓əmin̓əm̓ word sθәqәlxenәm as the name of this new park cannot be overstated. Through the work leading up to this naming ceremony, Musqueam has deepened our relationship with the Vancouver Park Board, and we look forward to continuing to collaborate on projects that ensure our culture is shared with the residents of and visitors to our territory."
Syex̱wáliya (Ann Whonnock) of Squamish Nation
"We commend the Vancouver Park Board for working with us to name this park in both Sḵwx̱wú7mesh Snichim and hən̓q̓əmin̓əm̓. The new place name will remind people that they're on our traditional territories and help them to learn more about our languages and cultures. We look forward to continue working with our partners to restore more Coast Salish place names in our territories."
Chief Jen Thomas of Tsleil-Waututh Nation
"We hope that sθәqәlxenәm ts'exwts'áxwi7, 'rainbow' park, is a place everyone feels comfortable gathering and coming together as a community. Tsleil-Waututh Nation is proud to work with the Squamish Nation and the Musqueam Indian Band to gift this name which helps put our face back on our traditional territory and have our presence known in this beautiful outdoor space."
"We are honoured for this dynamic new park to be gifted a beautiful name and for the role it will play in decolonizing the park system. We have used this experience to pilot a new consultation and naming process that will help us update our Park Naming Policy to honour the host Nations and these unceded lands."