Gardens, parklets, patios, and murals: street use innovations in 2014
December 30 2014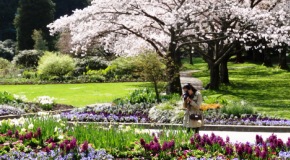 The City of Vancouver continues to look for innovative uses for many of its streets, sidewalks, and public spaces as a tool to drive community engagement and identification. Below is a summary of some of our successes in 2014.
Community gardens
Community gardens are an excellent way for residents to benefit from locally grown food as well as promoting community building and reducing crime. They are also an integral part of the City's Urban Food Strategy, which forms one of the goals of the City's Greenest City 2020 Action Plan.
Vancouver has over 75 community gardens, located in city parks, in school yards, on private property – and even one on the grounds of City Hall. These community gardens represent over 4,400 individual plots, an increase of about 1,200 plots since 2013.
Parklets
Launched as part of VIVA Vancouver, parklets are extended platforms over parking spaces that include benches, tables, chairs, and landscaping. They are designed to enhance the street in front of businesses or organizations by creating a space for people to sit, relax, enjoy the city, and possibly become customers as well as fostering a sense of community by creating welcoming public spaces. Parklets are sponsored by private partners but are free and open for any member of the public to use.
There were five parklets set up in Vancouver during 2014 each with their own unique theme and style:
Urban Pasture: 1000 Block Robson Street
Hot Tubs: East 44th Avenue at Fraser Street
French Quarter: East 21st Avenue at Main Street
Parallel Park: East 14th Avenue at Main Street
Commercial Drive Parklet: 4th Avenue and Commercial Drive
Patios
In 2014 the City created a Patio Hours Extension Pilot Program which was designed to improve the patio experience for customers and enliven Vancouver streets. Under this program, restaurants would be able to serve patio customers until 12 midnight daily – one hour later than normal.
115 restaurants took part in the pilot program, which ran from April 1st – October 31st. There were nearly no patio noise complaints recorded and the City is currently reviewing the pilot program as it prepares for the 2015 patio season.
Murals
The creation of street and wall murals add to communities as they help to create landmarks, demonstrate community identity and pride, as well as enlivening the area. Building on the success of community on-street murals painted on roadways in the West End and Mount Pleasant in 2012, another two were painted in Marpole in spring 2013 and 2014. The designs for the Marpole Street Murals were created by Emily Carr students, and meant to reflect the culture and heritage of the Marpole area.
2014 was a great year for new murals around the City of Vancouver, including:
17 new wall murals
5 new street murals
3 new art wrap projects