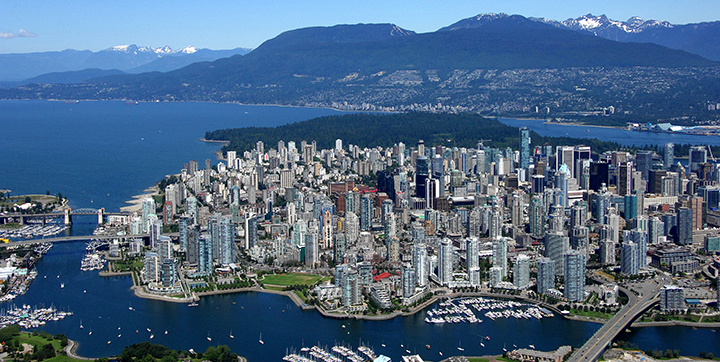 Geography
The City of Vancouver is a coastal, seaport city on the mainland of British Columbia. Located on the western half of the Burrard Peninsula, Vancouver is bounded to the north by English Bay and the Burrard Inlet and to the south by the Fraser River.
The City of Burnaby lies to the east and the Strait of Georgia to the west. Vancouver Island, across the Strait of Georgia, shields Vancouver from the Pacific Ocean.
Street layout
The streets in Vancouver generally form a standard grid, with most streets running north and south, and most avenues running east and west. The majority of avenues are numbered (1st, 2nd, 3rd, and so on) with two notable exceptions: Broadway, which replaces 9th Avenue, and King Edward Avenue, which replaces 25th. All streets are named.
Block numbers start with single digits on either side of Ontario Street, which is the east/west separator for avenues. For example, West Broadway runs to the west of Ontario Street, and East Broadway runs to the east. North of False Creek, the east/west separator for block numbers is Carrall Street.
Facts about Vancouver
Size: 114 square kilometres (44 square miles)
Population: 631,486 (according to the 2016 census)
Vancouver is the largest city in British Columbia, and the eighth largest municipality in Canada; the Greater Vancouver metropolitan area (which includes neighbouring cities such as Burnaby, Richmond, and Surrey) is the third largest in Canada
City Hall coordinates: 49° 15' 39.14" N, 123° 6' 50.23" W
Pacific time zone: GMT -8
Pacific maritime ecozone
Stanley Park is one of the largest urban parks in North America