Get to work on two wheels during Bike to Work Week
May 24 2013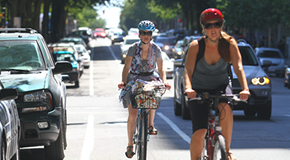 Whether you're a committed car commuter, or rely on the bus to get to work or school, next week is the time to break the habit and try rolling on two wheels instead of four.
The City of Vancouver is working with HUB, a non-profit group, to encourage new riders to try one of the cleanest and most energy efficient forms of transportation during Bike to Work Week, which runs May 27 to June 2.
Cyclists – rookies and veterans - will be cheered on with free coffee, snacks, bike tune-ups and daily giveaways at the following HUB celebration stations sponsored by the City of Vancouver:
Monday
May 27 

Tuesday
May 28  

Thursday
May 30 

Friday
May 31

Commercial Drive
and Adanac
7:00 - 9:30 a.m.
10th Ave. and Ontario
7 - 9:30 a.m.
Arbutus and
7th Ave
4:00 - 6:00 p.m.
Union and Hawks
7 - 9:30 a.m.
Burrard and Cornwall
4:00 - 6:00 p.m.
Quebec and Terminal
4:00 - 6:00 p.m.
 
Dunsmuir and Richards
6:30 - 9:00 a.m.
Since Council approved the Transportation 2040 Plan in October 2012, the City has committed to increasing cycling by making it safe, convenient and comfortable for people of all ages and abilities. Improved connections for cyclists are currently being developed along the Comox-Helmcken Greenway, the Point Grey Road–Cornwall Corridor, and the Adanac Bikeway.
Vancouver has an extensive 255 kilometre bike network, which includes 39 kilometres of painted bike lanes, six kilometres of separated bike lanes, and 40 kilometres of off-street bike paths. The City's goal is to have at least half of all trips made in the City on foot, bike or transit by 2020.
The City was recently ranked as the second best city in Canada for accessibility to cyclists by Bikescore.com, which grades cities across the continent on the availability of bike lanes, hilliness, number of destinations, and number of commuters.
The 2012-2014 Capital Plan includes $13 million invested in active transportation corridors (bikeways and greenways) and spot improvements.  The City, in partnership with the Vancouver Foundation, also granted $53,000 to cycling-related groups through the Greenest City Grants program. The funding will be used to deliver cycling skills courses and bikes to low-income individuals, and to create a maintenance and repair program for the Public Bike Share system.
A map of the City's bike network can be found at vancouver.ca along with safety tips, and rules and regulations to help you cycle safely alongside other road users.
For more information on Bike to Work Week, visit biketoworkmetrovan.ca.