Getting around Vancouver
Explore Vancouver's many attractions by foot, public transit, or bike. Learn about your options for getting around Vancouver and how we are promoting green transportation as part of the Greenest City Action Plan.
Accessibility around the city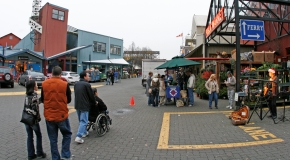 Vancouver welcomes visitors of all abilities from around the world to enjoy our beautiful city.
The City is committed to creating an accessible community by removing barriers that might keep you, or someone you care about, from fully enjoying Vancouver.
Accessible streets benefit everyone. Curb ramps and bus ramps make getting around the city easy, especially for those pushing strollers and using wheelchairs, scooters, walkers, and canes.
Audible street signals and curb cuts in the sidewalk help pedestrians with vision impairments cross the street.
Check out the services available to help you get around in Vancouver.
Information on getting around the city
Curb ramps and audible signal devices installed at crosswalks help make our streets accessible.
On-street parking in Vancouver includes time-limited parking and pay (meter) parking.
Our plan provides a vision for how people and goods move in and around Vancouver for the next 30 years.