Granville Bridge to receive seismic upgrades in 2013
January 7 2013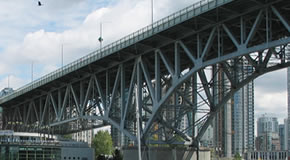 Beginning in early 2013, the Granville Bridge will be undergoing seismic upgrades and expansion joint replacement from January to December 2013. During this time period, there will be:
An increase in vehicle traffic onto Granville Island from January to June
Overnight bridge closures (12 midnight to 5:00 am) from March to November
Daytime lane closures from June to October
The above closures will allow contractors to replace the original bridge bearings with new seismic isolation bearings. This project will greatly increase the seismic performance of the bridge, and in the event of an earthquake, minimize the risk of bridge closures, costly repairs, or even bridge decommissioning.
If you would like to receive updates regarding this project, please email granville.bridge.updates@vancouver.ca.